Inside E Street: Interviewing Supreme Court Justice John Paul Stevens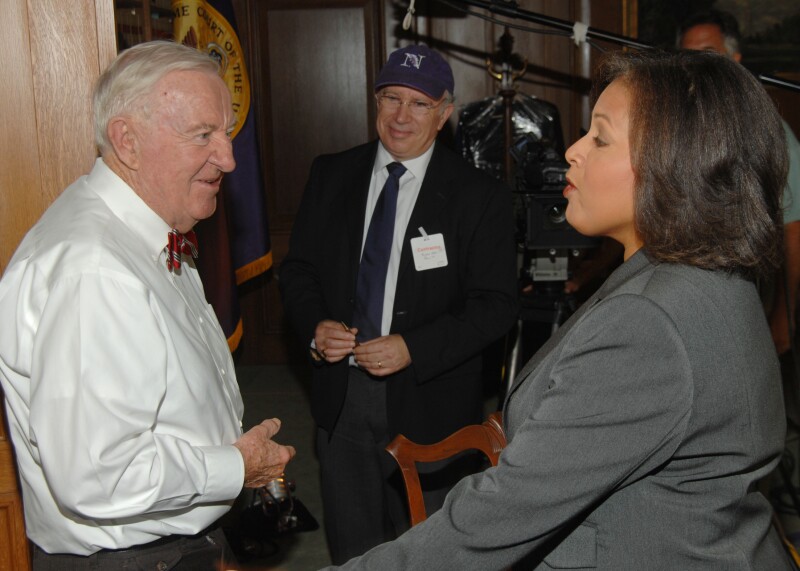 This is a guest post from Inside E Street managing editor Richard Harris.
About the time my oldest daughter was in elementary school in the early 1990's, she mentioned she had a friend who had an Uncle John whom I might know. When you're in the news business, your kids think you know everyone even though you "know" most of them simply because you report on them. (I've met Nelson Mandela and Queen Elizabeth exactly once each - doesn't mean I KNOW either of them.)
Uncle John, it turns out was John Paul Stevens, as in Supreme Court Justice John Paul Stevens. It was my daughter's friend's mother who was Stevens' niece. So we had a running joke: promise to give me a heads up when you think your uncle may retire.
That's all I wanted. Getting an inside tip on a pending Supreme Court resignation was a pretty big scoop. Trouble was years would go by, Supreme Court justices would come and go, seven different Presidents would occupy the White House and I would spend 19 years at Nightline without so much as a whiff of Stevens' resignation in the air. Remember, by the time I had made the Stevens connection, he had already been on the high court nearly 20 years. Anytime I would bump into Stevens' niece, it would be the same thing: "your guess is as good as mine."
Finally, the news came anticlimactically in a resignation letter from Stevens to President Obama in April, 2010, just days shy of Stevens' 90 th birthday. In its entire history, the Supreme Court had only one other justice, Oliver Wendell Holmes, who sat on the bench at age 90.
We were entering unchartered waters in this country. People were not just living and staying active longer, but many were working far longer than our parents and grandparents had. Longevity was no longer a rarity. It seemed more of the norm. And John Paul Stevens was the poster boy. It seemed only appropriate to see if he would talk about his decision to stay on the high court so long and why he finally decided to hang up his robe one last time.
(To be continued later today...)