Inside E Street: Interviewing Supreme Court Justice John Paul Stevens, Pt II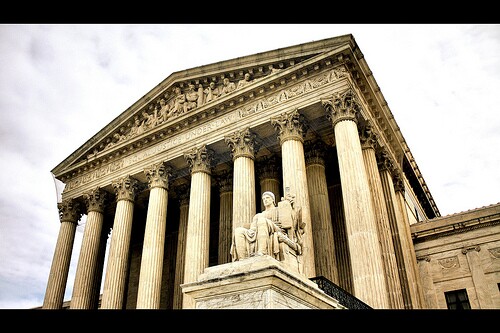 This is a two-part guest post from Inside E Street managing editor Richard Harris. You can find part 1 here.
Shortly after that first Monday in October when he was no longer an associate justice, I wrote a note to Stevens at the Court, pitching an interview on longevity. He was on what's called "senior status," where a retired justice can maintain chambers and can be brought into lower court proceedings, if need be.
Six months later, came word that Justice Stevens had agreed to the interview in his chambers at the Court and we needed to provide the personnel and equipment list with security information. When the day came, the camera crews needed to pull apart their gear for a security inspection in the courthouse basement garage.
On the way up in the freight elevator, we were warned that Justice Stevens may be working in his office as we set up. But as we were ushered into his chambers, a wood-paneled outer office where we met his assistant, it became clear that Justice Stevens had taken refuge elsewhere. We were escorted into his inner office lined with book shelves filled with US Reports, the bound volumes of Supreme Court opinions, a prominent desk with eyeglasses at the ready and strategically placed framed family photographs. The two-story windows looked out on the plaza in front of the Court with a drop dead view of the US Capitol and Senate across First Ave NE, a reminder that two of the three branches of government are just a stone's throw from each other.
The goal was to set up the interview in such a way that we would not reveal Stevens' personal space. As the crew set up, Executive Producer Margee Frame and I got out of the crew's way and waited in Stevens' outer office, which displayed even more of his personality than his inner office.
There's the wall devoted to Chicago sports icons: personalized pictures of Chicago legends Michael Jordan and Ernie Banks, along with a framed Chicago Cubs shirt worn by retired pitcher Mark Prior. And on the door leading into his personal office, there was the picture of Stevens himself in his beloved Cubs jersey, standing on the mound at Wrigley Field in 2005, preparing to throw out the first pitch. (During the interview, he called that "the highlight of my career, unquestionably").
And on the wall behind his assistant, there was the famous scorecard I had read about, a souvenir of one of baseball's most historic moments that Stevens witnessed as a 12-year-old in Wrigley Field: Game Three of the 1932 World Series between the Yankees and Cubs. The story is disputed, but Stevens says he saw it with his own eyes. Babe Ruth, who had already had hit one home run that day, came up to bat in the fifth inning and decided to play with those who were riding him by pointing to center field with his bat. Ruth then proceeded to hit his second home run of the game precisely to the spot in center field where he had just pointed, the so-called "called shot."
I was like a kid in a candy store. On the far wall were the pictures you often see in Washington power offices, but with a difference. Stevens had sworn in Vice President Biden in 2009 and there was a personal note from him accompanying the picture. Next to it: a note from President Obama wishing Justice Stevens a happy 90 th birthday, reminding him there was only one other occasion in US history when a sitting justice celebrated his 90 th. And on the other side of the wall, a panoramic picture of a bow-tie formation of the marching band on the football field at the High School named for him in San Antonio, a nod to Steven's sartorial signature.
When the crew finished tweaking the set, we signaled to the Public Information Officer that we were ready. A few minutes later, Justice Stevens appeared at the door in a crisp white shirt (no sport jacket at his insistence), red bow tie and a twinkle in his eye. If this is what 91 looked like, it wouldn't be hard to imagine people who take care of themselves living well beyond 100, I thought.
Stevens couldn't have been more gracious. Since he went to Northwestern Law and Lark and I are both Northwestern alums, I decided to wear a purple tie and purple Northwestern cap to make the Wildcat connection. And when we were chatting about the recent woes of the Cubs before the interview, I couldn't help but think nearly 20 years had gone by since I had first heard about Uncle John.
Photo: