NASCAR, NFL and 9/11: Memories and Mixed Emotions
By Deb Silverberg, September 12, 2011 06:23 AM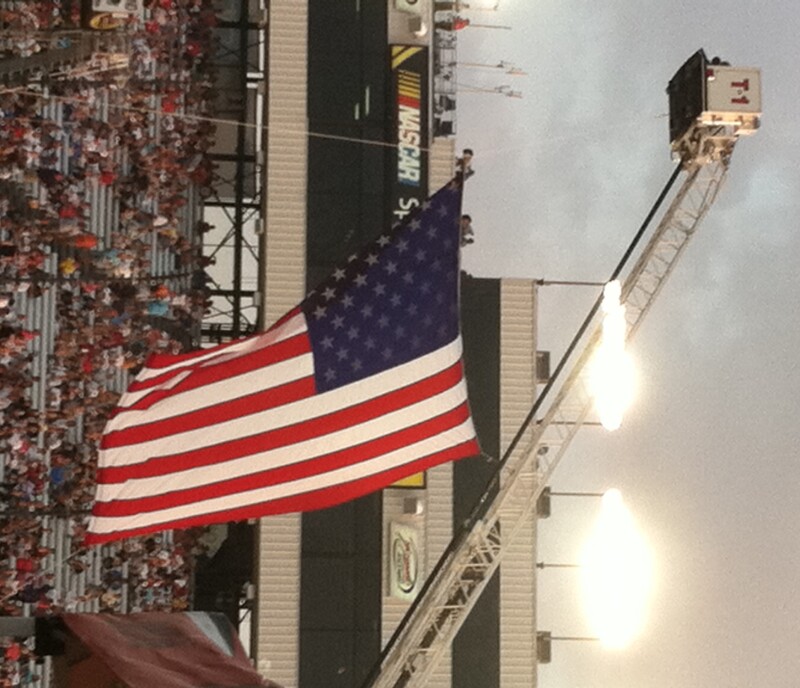 To paraphrase a Rolling Stones song, am I the only one with mixed emotions?

I was happy about a beautiful fall weekend. Thrilled to be in Richmond covering NASCAR's last race before ' the Chase' for our Drive to End Hunger effort. Excited for NFL kickoff weekend (go Redskins!). And extremely sad about what happened 10 years ago. Anyone who experienced it firsthand knows what I mean.

Images can bring the sounds, sights and smells from that day rushing back all too quickly. Katie Couric put it well in one of the numerous 9/11 TV specials. "The pictures from that day aren't etched into our memories-they're seared into them." So true.

Monday, September 10, 2001, was my first day at my new job at AARP. I had just moved back to the D.C. area from Richmond.

Day one was what you'd expect at a new job. Day two, September 11, was anything but routine. I made my way to the ninth floor and put my purse in my office. Then there was news of a plane hitting the World Trade Center.

It was surreal, watching footage of those planes hitting the towers, and all those people in the streets shell-shocked and covered in dust. It became more real for us when we heard other hijacked planes were likely heading toward the White House (10 blocks away) or the Capitol...even closer to our office. Soon we learned that one of the planes hit the Pentagon, just across the Potomac River.

Many of us left the building after hearing about United 93, not not sure how we'd get home since Metro wasn't running. I walked with a colleague through Northwest D.C. and over the Key Bridge to Arlington, Va., around 7 miles away. But the distance isn't what I remember.

I remember seeing the smoke billowing up from the Pentagon across the Potomac, the gray-black contrast so vivid against otherwise blue skies. The smell of something burning...sometimes faint, sometimes more pronounced depending on the whim of the occasional light wind over the river. Hundreds of people, from all walks of life, walking down the streets of D.C. All quiet, somber, purposeful, surprisingly calm. Those things are seared in.

We were much luckier than the people in New York City that day, but we share something with them. Many of us played the "Will they hit us" scenarios over and over in our heads, glued to news out of New York in the coming days, weeks and months. That's why I felt a little guilty having something fun to look forward on the 10th anniversary weekend. Part of me wanted to stay home and watch 9/11 anniversary specials.

It was wonderful to see so much pride and patriotism at the NASCAR race. Pre-event ceremonies honored first responders, wounded warriors and the military men and women who help serve and protect our country.

Fans waved small American flags during laps 9 through 11, while the crowd and announcers were silent. The only noise was the roar of the engines.

There were more than a few FDNY hats in the infield. Mayor Giliuani joined us via video to say a few words. Danny Rodriguez, the 'singing policeman,' did a memorable God Bless America. Red, white and blue were the colors of the night...unless you count those pesky yellow caution flags.

Jeff Gordon did an amazing job taking the No. 24 Drive to End Hunger Chevrolet from the 17 th position all the way to the front-and he likely would have won, instead of taking 3rd, had it not been for that last caution.

Seeing always patriotic race fans saying thanks to men and women in uniform made me proud. I'm also proud that so many people donated $10 by texting HUNGER to 50555 during the race. They had extra incentive, since Jeff Gordon matched their donations that night.

We can all be proud of the great work being done to raise awareness and fight hunger. No matter where we live or where we hail from, we're proud to be Americans. We should have fun and cheer. And we will never forget.

Follow Jeff Gordon and the No. 24 Drive to End Hunger Chevrolet during the race for the Chase on Twitter @Drive2EndHunger and on Facebook. Here's how to donate.