Putting the Joy Back Into Cooking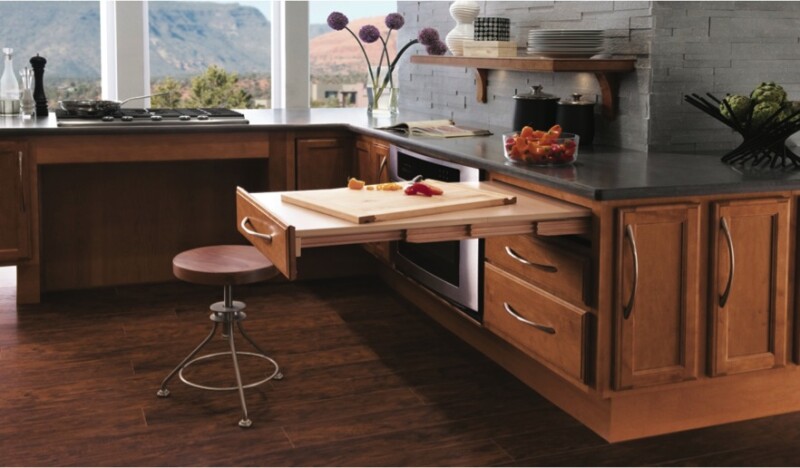 I think I was born to cook. Ever since I was young, I've enjoyed cooking for friends and family. I even catered my own wedding reception for 80 when I was too young to know better. A large 3-tiered lime coconut wedding cake was the piece de resistance. But over the years the joy of cooking became more like the drudgery of cooking due to aching feet and nagging back aches. Hours of standing on an unforgiving stone floor and far too many acrobatic reaches, squats, and bends retrieving ingredients and cookware were taking their toll.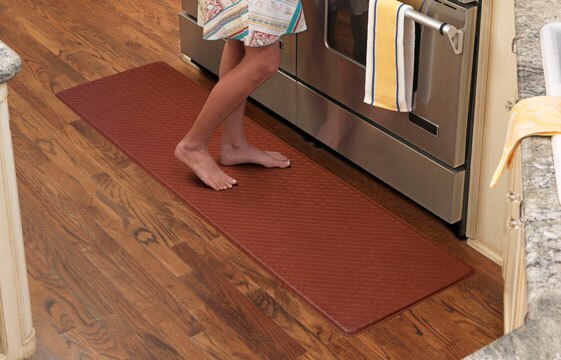 This could have been a great excuse to order more takeout, but here are the four simple steps that put the joy back into cooking.

Stand on a cushioned mat. Most kitchen flooring, whether it's stone, tile, or wood (as beautiful as these surfaces may be), can stress your feet, legs, and back. And if you have a touch of arthritis, you're going to feel the discomfort all the more. The solution? Try a cushioned mat, made out of rubber, gel, or specialty foam. Manufacturers include GelPro (photo), Sublime, and RubberCal.
Make sure the mat has a non-slip backing, a textured non-slip surface, and beveled edges for increased safety. If you or a loved one has either a mobility impairment or low vision, be sure to get the flattest mat you can find. This will reduce tripping.

Sit down more. If you have an eat-in kitchen, you already know that the island or dining table is a convenient place for food prep, especially if you've been on your feet all day. But if your kitchen is on the smallish side, swap an under-the-counter drawer for a pull-out chopping board. Voila! You now have a place to sit and prep. Manufacturers include Kraftsmaid (photo), Rev-A-Shelf, and Hafele
If you can't spare a drawer, use a bar stool at the countertop.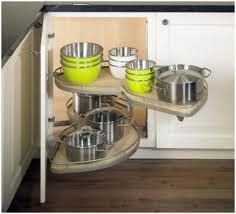 If you're remodeling, install a countertop section (30" wide and at a height of 30" - 32") with no cabinets underneath for comfy legroom to sit and prep.

Install flexible shelving. Remember when we were younger and all kitchen shelving was fixed in place? Today's kitchen designs are all about ergonomics and flexibility, and that includes sliding shelves in the refrigerator, pantry, and upper and lower cabinets. Your back (knees and hips too) will thank you. Manufacturers include Hafele (Photo), Rev-A-Shelf, and Slide Out Shelves LLC.
Rethink the traditional oven. Bending down to pull things out of the oven, especially something heavy like the Thanksgiving turkey, can wreak havoc on your back. Fortunately, there are alternative to the traditional oven. My good friend and next door neighbor, Anna, usesa large countertop toaster oven and raves about the convenience.
If you're remodeling, install a separate cook top and a separate wall mounted oven at an easy-to-reach height. (I usually recommend that the bottom of the oven be at 30"- 34" above the floor.

I now do all my food prep standing on a comfy cushioned mat or sitting at the dining table. Sliding shelves and lazy susans are found throughout my cabinets and refrigerators. And for now, I'll let my husband remove the cooked turkey from the oven until we remodel. I am back in the kitchen and loving it. Quel joy!

Visit RosemaryBakker.com and ThisCaringHome.org, a website for caregivers of persons with dementia. You can also find out more about her book, AARP Guide to Revitalizing Your Home: Beautiful Living for the Second Half of Life.