The Sun (and Multi-Generational Housing) Continues to Rise in Charlottesville, Va.
By Jen Martin, October 17, 2012 10:00 AM
This is a guest blog post by Kelly Persons, a member of the AARP Foundation Housing Impact team.

A beautiful, sunny September Saturday afternoon played host to a neighborhood celebration and ribbon-cutting in Charlottesville, a tribute to the vision and hard work of so many who collaborated to create the new community of Sunrise Park. Where 16 aging trailer homes in need of repair once stood, now stands a multi-generational, mixed-income, green neighborhood comprised of a condominium building and 16 single-family attached homes. And this is just the beginning. Upon completion in 2013, Sunrise Park will have a total of nine affordable rentals, 22 new Habitat for Humanity partner family homes, approximately 30 market-rate units, as well as commercial and community space.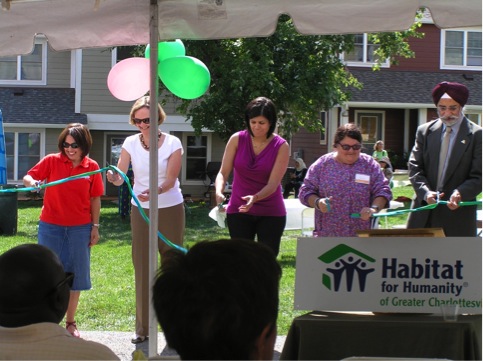 The essence of community was everywhere that day - from laughing children enjoying the bounce house and face painting in the outdoor community gathering space (aptly called, "the Big Back Yard"), to the condo residents, and their family members and friends. Block-party activities included live music by a local group, The Pollacks, a performance by the Chihamba Drumming Ensemble, self-guided tours, and a healthy cooking demonstration in the Sunrise Community Center, which occupies the ground floor of the condominium building.

At the ribbon-cutting ceremony, Habitat for Humanity of Greater Charlottesville's Executive Director Dan Rosensweig spoke about 2004, when Habitat purchased the trailer park with the goal of redeveloping it without displacing residents. He recalled how former Habitat Board of Directors Chairwoman Lynne Conboy used to say Habitat didn't know how it was going to do it - after all, converting a trailer park to a mixed-income community without displacement had never been done, in Charlottesville or anywhere. However, the board members knew in their hearts that they had to do it, that it was an ethical and a moral imperative. It was also a great opportunity to lead, to show others how to create a beautiful neighborhood, inclusive of those who were already here and welcoming of new Habitat partner families and new market rate homeowners as well.

They say people - and specifically, neighbors - are the fabric and core of each and every community. The Sunrise Park Family is no different. Collectively, these residents -- young and old, whether born in Charlottesville or in war-torn countries like Iran and Afghanistan -- are more alike than they are different. In his closing remarks, Rosensweig affirmed this shared and profound investment in community building, saying, "Yes, today is the beginning... and the success of this community doesn't ultimately reside in the porches, roofs, doors or windows of the homes... oh no, it resides in you. You have the power to work together, to continually place the needs of your neighbors above your own. And when you fully embrace that notion in your heart... the whole community - all of Sunrise - not just your own house... will be your home."

So welcome home, Sunrise Park residents! AARP Foundation is proud to be a partner and we think Sunrise Park can be a national model for compassionate, sustainable urban redevelopment that provides a continuum of housing services in a fully accessible neighborhood.

Sunrise Park is funded in part by AARP Foundation under the direction of Habitat for Humanity of Greater Charlottesville. AARP Foundation is working to improve access for people age 50 and over to safe, affordable, accessible housing. They are developing strategies to make all of our communities affordable and welcoming for people regardless of age or physical ability.

Photo credit: Trish Tolbert