Think Your Doctor Bills Are High? Check Your Pooch's
By Candy Sagon , November 03, 2011 08:00 AM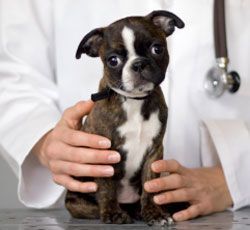 They may be man's (and woman's) best friends, but their health care expenses are soaring right along with ours.
Over the last 10 years, pet care bills have climbed steadily higher at almost the same rate as human health-care costs.
According to the American Pet Products Association, total pet-related expenditures by the end of 2011 are expected to top $50 billion -- half of that for vet care and over-the-counter medicine and supplies -- compared to $48 billion last year and just $28 billion in 2001.
Last year, Americans spent $655 on routine doctor and surgical visits for dogs, up 47 percent from a decade ago. The Wall Street Journal reports that health expenditures for cats soared 73 percent between 1999 and 2009, while the same expenses for people during that time rose nearly 77 percent.
Vet bills alone rose by more than $1 billion, from $13 billion last year to $14 billion this year, reports Time magazine.
The reasons for the higher costs should sound familiar: More advanced and expensive technology is being used to treat pets, as well as increased preventive care plus liability concerns among doctors.
Plus, let's face it, owners are increasingly more willing to foot the bill to keep their pets alive and healthy. As one pet owner who had spent thousands on surgery for his two dogs told the Wall Street Journal, "It's hard, the money, but they are part of the family."
One way pet owners are trying to curb costs is by purchasing pet insurance plans. More vets are offering plans that, for a monthly fee, offer discounts on treatment and free office visits. Other monthly fee-plans encourage preventive care for pets by offering free vaccination, blood work and dental cleaning.
And let's not forget the health benefits that pet ownership provides to you. Studies have shown that having a pet helps reduce stress and depression and lowers blood pressure -- all of which is very good for your health.
Photo credit: Globalanimal.org