Write Your Memoir to Win a Book Contract
By Lorrie Lynch , December 23, 2013 04:48 PM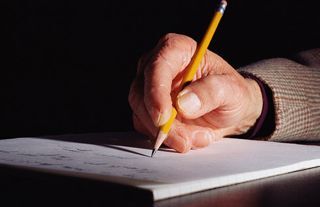 Calling all writers: Could you be the next Frank McCourt, Elizabeth Gilbert or Jeanette Walls - all authors of bestselling memoirs?
Here's your chance to share your life story, win $5,000 and get a book contract. AARP, The Huffington Post and publisher Simon & Schuster have teamed up to hold a national memoir contest. "We're searching for the next great memoir," said Myrna Blyth, Editorial Director for AARP Media. "We want to find a gifted writer who can tell a remarkable story of his or her life. We believe this memoir contest could really be the chance of a lifetime."
The details:
You need to be born before Dec. 31, 1964 - when the last of the baby boomers turns 50.
Send in your synopsis of your memoir and 5,000 words by Feb. 15, 2014. The address is 50memoir@huffingtonpost.com. Please put MEMOIR in the subject line. (Check out www.huff.to/memoir for more information.
Finalists will be asked to submit completed memoirs - 20,000 to 50,000 words - by June 15, 2014.
The winner will receive a $5,000 cash prize and have the work published by Simon & Schuster, featured on The Huffington Post, and excerpted in AARP The Magazine, which has over 37 million readers.
>> Get entertainment and dining discounts with your AARP Member Advantages.
The winner will be announced in September 2014. Finalists will be judged by a panel including AARP's Myrna Blyth, The Huffington Post's Arianna Huffington, an editor from Simon & Schuster, and actress and Huff Post 50 editor-at-large Rita Wilson, who introduces the contest below:
Also of Interest

See the AARP home page for deals, savings tips, trivia and more