4 Tips for Getting Along With New In-Laws
Engagements peak around the holidays, so for some parents — maybe you — 2015 will bring a daughter- or son-in-law. That means other new family members as well; maybe you'll be meeting them for the first time.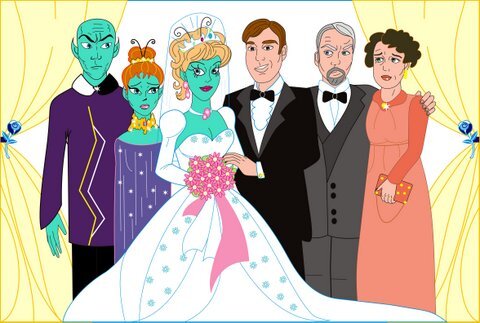 These extended family relationships are often complicated even before they start. Yet other parents — for better or worse — will now share the peaks and valleys of your child's life. And given divorce and remarriage, three or four parents may be involved, often bringing along an entourage of relatives and lifelong friends.

For many years, author Ruth Nemzoff has lectured about intergenerational family matters. The most common question she's asked is, "How do I get along with my in-laws?" That prompted her to write Don't Roll Your Eyes: Making In-Laws Family , which explores why "we make in-laws into out-laws." I spoke recently with Nemzoff, the mother of four married adult children scattered around the globe, about the changes an engagement brings. She dispensed some advice with a dollop of humor.

Q. Parents are sometimes unsure about their role, starting with the engagement announcement. Who does what?

A. This is not the time to play protocol. Pick up the phone and call the other parents. The message should be that we are so happy that your child has made our child so happy, and we look forward to sharing many times together. If you haven't met the other parents, set up a neutral place for dinner and make it casual, like pizza. This is not the time to invite them to your country club.

Q. Many times, the other family comes from a different culture. How do you handle those differences?

A. First, don't take it personally. Some parents meet for the first time at the wedding and not again until a grandchild is born. Other people expect to go on vacation together. Whatever the differences, this is the time to minimize them and look for commonalities. Consider yourself a tourist in the new culture and look around and see what their customs and ceremonies are . Be curious — in a positive way — about their background. Maybe you'll learn something new.

Q. Sometime tensions are set off by socioeconomic differences, especially when it comes to planning and paying for the wedding.

A. Money differences can cause a rift. The other problem with weddings is that there are too many conflicting fantasies — not only those of the bride and groom but of the parents, too. This is where flexibility and compromise come in. Figure out what you care about the most and make that request. You may not get your wish, but you can ask.

>> Get travel discounts with your AARP Member Advantages.

Q. The wedding begins a new chapter in our children's lives and ours, too, with changes in traditions of holiday celebrations, vacations and other events. We may be left wondering where we fit in to their lives. Any suggestions?

A. We told our kids to share as they were growing up. Now it's our turn to remember those lessons. We have to share our children with their spouses and the in-law parents. Develop new traditions. You can mourn the change, but then move on.

Mary W. Quigley's blog, Mothering21, tackles parenting of emerging adults and beyond.
Photo: rubinasirena/iStock









Also of Interest:

See the AARP home page for deals, savings tips, trivia and more.