The New Dating Game — Millennial Style
By Mary W. Quigley, February 23, 2015 03:38 PM
When my friend was in her 20s, single and living in New York City, she called her suburban mother a few times a week. Often the conversation started with her mom asking, "So?" That was shorthand for "Did you meet any eligible young men?" My friend eventually did meet a guy, and 33 years later they are still happily married.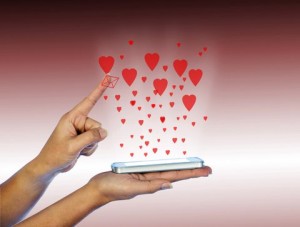 These days we might be reluctant to ask the same question of our millennial children because we might not want to hear the answer. Yes, they met someone — dozens actually — on a mobile app. Technology has changed almost every aspect of life for millennials, including dating and mating rituals.

As a public service of sorts (so you don't have to pry), we provide a field guide to the brave new world of dating apps.

In an effort to get some ground-level reconnaissance, we reached out to a friend of a friend. Rebecca (who prefers not to give her last name) is a 30-something transplanted Texan who's working in New York. When we spoke recently, Rebecca had just checked out her latest "batch" of matches from Tinder. She had turned down a same-day invite from one guy to a museum but accepted another's offer to meet for drinks the following Tuesday.

Tinder, the most popular mobile app with more than a billion swipes daily, gives users an unlimited dating pool: Upload a photo; write a brief profile; set search parameters of distance, age and gender; and go. Then the swiping of potential matches begins: a swipe to the right if the photo appeals, to the left if it doesn't. When two users match, they can then begin texting and exchanging other information — or not! Since users can set geographic location, it's possible to find a match who's sitting in the same room or within a mile or two for an immediate meet-up. Because of the possibility of instant connection, Tinder has gained a reputation as a hookup app, but many users argue that it is simply an easy way to meet people and can lead to long-term relationships.

>> Get travel discounts with your AARP Member Advantages.

Rebecca says that she has experimented with almost every dating site available, including Match.com and OKcupid.com, where matches are based on users' completion of lengthy profiles. While she prefers online sites that charge a fee — "If people pay, they tend to take it a bit more seriously" — she has recently started to use Tinder about once a week.

For Rebecca, "Apps are great because they are faster and less work than an online site. They are the closest step to meeting someone in a bar." However, she points out, "The problem is the match might look great in a photo but once you meet, you might not like him at all." Not to fear, there are other popular apps, each one with an angle. A sampling:



After a coworker began dating two guys she met on Hinge, Rebecca started using the app, intrigued by the possibility of a match with someone who was within an extended social group. "I like the idea that you can connect with friends of friends," she said. "Some human being knows this person is not a random robot or serial killer!" she added with a laugh.

Mary W. Quigley's blog, Mothering21 , tackles parenting of emerging adults and beyond.

Photo: Suwatwongkham/iStock

Also of Interest:

See the AARP home page for deals, savings tips, trivia and more.