Why Family Ties Unravel Between Mothers and Adult Children
By Mary W. Quigley, November 23, 2015 01:40 PM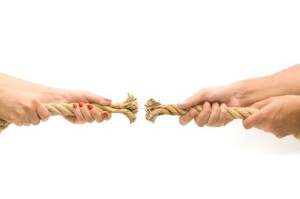 That perfect Norman Rockwell tableau doesn't always match real life around the Thanksgiving table. Throughout the holiday season, family feuds can simmer, prompting outright refusal by adult children to join the festivities.

Estrangement between mothers and children is sometimes the reason for an empty seat at the table. Recent research has found that such schisms impact about 10 percent of parents and adult children.

The most common cause is a clash in core values between the parent and child over decisions from partner choices to religion. Other reasons include the mom's feeling that her child is not living up to his or her potential in terms of education or career. Surprisingly, the study found that icy distancing was less common when a child committed a crime or suffered from drug addiction.

Get discounts on hotels, airfare, car rentals and more — AARP Member Advantages. »

"The adult kids had done something that violated a mom's core expectations and values," said Megan Gilligan of Iowa State University, who conducted the study. "We could see clearly these were things that the mothers really cared about. They were part of a mother's identity and mothers saw violating these expectations as offensive."

Gilligan is part of a research team with Purdue University professor Jill Suitor and Cornell University professor Karl Pillemer that has examined the parent-adult child relationship in the Within Family Differences Study since 2001. This most recent investigation, Gilligan told us, was to identify how a mom becomes estranged from her child. The results were based on interviews with more than 550 mothers over age 65.

The study found hostility ranged from not speaking in years to a strained phone call on Mother's Day. The distancing often began after the distressed mom expressed disapproval and the adult child reacted negatively. While both parent and child are hurt and offended, it's the adult child who most often pulls away after the criticism.

Gilligan said researchers were surprised to find that adult children who "violated societal norms" by getting arrested or having serious substance behavior were not usually estranged. "We thought in the case with kids with so many problems that moms don't want to deal with them. That was not the case and there was some evidence that instead moms wanted to reach out to help and reform them."

How would you put $10,000 to work? Sharpen your job skills and enter for a chance to win the big prize! Ends 1/31/16. No purchase necessary. See official rules »

Estrangement was somewhat less common when the mother is married, and Gilligan speculates that happens because the dad plays the role of intermediary. Also the mother is usually estranged from just one child.

Once estrangement occurs it's very difficult to mend the damaged relationship, Gilligan said. Her advice: "These events seem to be happening earlier in life, so maybe when you are first feeling that tension and strain, that's the time to try to fix it."

Mary W. Quigley's blog, Mothering21, tackles parenting of emerging adults and beyond.

Photo: Funebre/iStock

Also of Interest:



See the AARP home page for deals, savings tips, trivia and more.