Why More Generations Are Living Under One Roof
So much for the empty nest.
For decades, older Americans have shared the same roof with their adult children. Since the recession, millennials started boomeranging home, and staying and staying, often into their early 30s.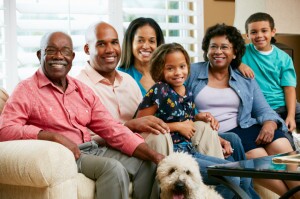 In 2012, in fact, a record 57 million Americans - or 18.1 percent of the nation's population - lived in multigenerational family households. That's double the number in 1980, according to a new Pew Research Center study.
>> Sign up for the AARP Money newsletter
The multigenerational boom has been driven by young adults, ages 24 to 35, who have displaced Americans 85 and older as the group traditionally most likely to live with family members.
Now, 23.6 percent of the 25-to-34 age bracket live in a multigenerational household as compared with 22.7 percent of the 85-plus group.
See also: Multigenerational Living: On the Rise
Why are so many millennials living with their parents - or moving back in with them? Among the reasons, according to Pew:
Young adults are marrying later, with the median age at first marriage now 26 for women and 28 for men, up from 20 and 22 in 1960.
Racial and ethnic minorities are more likely to live in multigenerational families, and their numbers have grown with increased immigration since the 1970s.
>> Get travel discounts with your AARP Member Advantages.
There's no place like home, apparently, for young adults who find it difficult to make it on their own. As Richard Fry, a coauthor of the Pew study, told the Washington Post: "The multigeneration living arrangement serves as a private safety net."
Mary W. Quigley's blog, Mothering21 , tackles parenting of emerging adults and beyond.
Photo: monkeybusinessimages/iStock
Also of Interest

See the AARP home page for deals, savings tips, trivia and more