Juan Felipe Herrera, el primer 'Poeta laureado' hispano de EE.UU.
Juan Felipe Herrera, un hijo de trabajadores agrícolas inmigrantes en California, será el próximo 'Poeta laureado' de Estados Unidos, según lo anunció el miércoles la Library of Congress (Biblioteca del Congreso).

La designación del literato de origen mexicoamericano como poeta laureado de la institución para 2015-2016 lo convierte en el primer autor hispano que logra la distinción.

Se trata del honor más alto que concede el país en la poesía y también es una promoción directa para Herrera, quien fue poeta laureado de California desde 2012 hasta 2014.

Según indicó la Biblioteca en un comunicado, Herrera tomará posesión de su cargo en los próximos meses con la participación en el Festival Nacional del Libro, que coincide con la apertura de la temporada literaria anual de la Biblioteca con una lectura de su obra en el Auditorio Coolidge de Washington, el 15 de septiembre.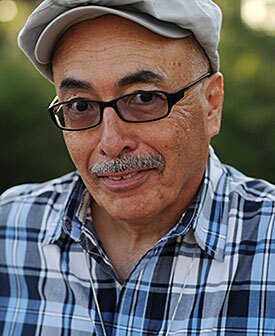 "Veo en los poemas de Herrera el trabajo de un verdadero estadounidense que lleva la sublimidad y la generosidad y se expande en 'Las hojas de hierba'", dijo James H. Billington, bibliotecario de la institución, en referencia a una de las obras claves del autor.

"Sus poemas se involucran seriamente con el juego del lenguaje y la imagen, lo que les da un poder incesante. Valoro cómo se defienden las voces, tradiciones e historias, así como una perspectiva cultural, que es una parte vital de nuestra gran identidad estadounidense", agregó Billington.

Herrera, quien sucede a Charles Wright como poeta laureado, dijo al conocer su nombramiento: "este es un megahonor para mí, para mi familia y mis padres que vinieron al norte, antes y después de la Revolución Mexicana de 1910, el honor que siento es más grande que yo".

La posición de Poeta laureado representa la creación de proyectos para fomentar la poesía por lo que, en su esfuerzo por cumplir con sus funciones, Herrera trabajará conjuntamente con la Biblioteca del Congreso en una serie de proyectos que van desde programas inclusivos hasta iniciativas para fomentar la participación y la lectura entre los jóvenes.

Para su periodo, Herrera de 66 años planea el proyecto 'Casa de colores' para incluir a creadores de todos los trasfondos étnicos y culturales. Podría organizar actos con jóvenes para atraerles a la poesía, quizá con poemas de Walt Whitman y haciéndoles componer un poema en grupo para recitarlo o interpretarlo con música.

También podría lanzar un programa para invitar al público en general a participar en un proyecto nacional de escritura enviando textos por internet.

Herrera nació en 1948 en Fowler, California. Su familia de trabajadores migrantes se mudaba a menudo, y en ocasiones vivía en carpas y remolques en carreteras. Su padre aprendió inglés pagando peniques a otros trabajadores por enseñarle cada nueva palabra.

Graduado de la Universidad de California, Herrera también ha escrito novelas juveniles, colecciones para niños y el libro ilustrado Portraits of Hispanic American Heroes. Su libro más reciente de poemas es Senegal Taxi, publicado en 2013.

Herrera es también autor de más de una decena de colecciones de poesía y ha recibido el Premio del Círculo Nacional de Críticos Literarios y el Premio Literario Latino Internacional.

También recibió dos Premios de Poesía del Salón de la Fama Latino, varios premios PEN y becas de la Fundación Guggenheim y el National Endowment for the Arts.

¡Felicitaciones a Juan Felipe Herrera, el primer 'Poeta laureado' hispano de Estados Unidos!




Foto: Library of Congress US
Video: YouTube

También de interés