La pintora cubana Carmen Herrera celebra 100 años de vida
La pintora cubana Carmen Herrera, a quien el reconocimiento le llegó tarde, cumplió 100 años el pasado domingo 31 de mayo.

Pinta desde la década de 1930, pero vendió su primera obra en 2004, cuando tenía 89 años. Luego de eso, su talento fue reconocido internacionalmente. Hoy sus cuadros forman parte de las colecciones permanentes de grandes galerías como el Museo de Arte Moderno (MoMA) de Nueva York y el Tate Modern de Londres, y la directora Alison Klayman, conocida por su documental Ai Weiwei: Never Sorry, del laureado artista chino, trabaja ahora en un documental sobre su vida y obra.

Fotos: Nuevas condiciones para viajar a Cuba.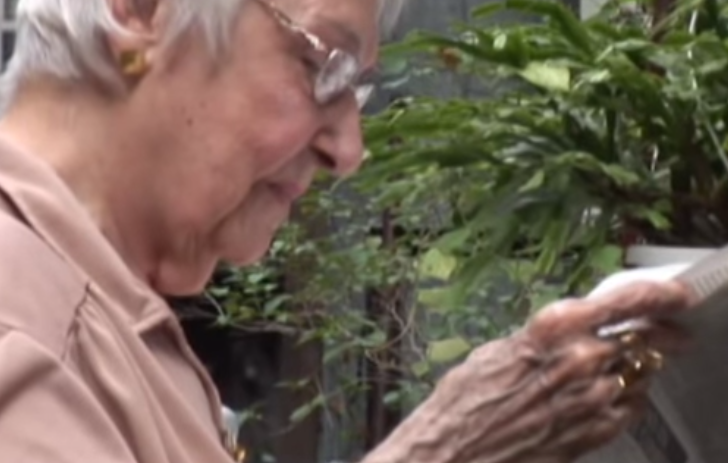 Blanco y verde, una pintura blanca de 1959 dominada por un triángulo invertido verde, es parte de la exposición inaugural del nuevo Museo Whitney de Arte Americano en Nueva York, que planea dedicarle toda una muestra en 2016.

También para celebrar su centenario la prestigiosa galería londinense Lisson Gallery prepara una muestra retrospectiva.

Cuando la Galería Ikon en Birmingham, Inglaterra, presentó una exposición en solitario de Herrera en 2009, el diario The Observer de Londres la elogió como "el descubrimiento de la década" y preguntó "¿cómo no habíamos visto antes estas brillantes composiciones?" Una retrospectiva en el museo alemán Pfalzgalerie vino después.

Suscríbete a nuestro boletín.

Su obra profundamente minimalista comprendió en los primeros tiempos dibujos con color, luego se limitó a emplear dos tonos y últimamente sólo uno. "Un día pintaré solo un punto", dijo Carmen en una reseña de su obra que hizo la revista W cuando cumplió 99 años.

Nacida en La Habana, Cuba, en 1915, su padre fue el editor fundador del diario El Mundo y su madre una periodista. De niña tomó clases de arte, asistió a una escuela de élite en París, estudió arquitectura y se capacitó en la Liga de Estudiantes de Arte en Nueva York. En 1939 se casó con Jesse Loewenthal, un profesor de inglés de la escuela secundaria Stuyvesant en Manhattan.

Desarrolló su estilo artístico durante los años de posguerra en París, donde la pareja vivió de 1948 a 1953. En París y Nueva York socializaron con artistas entre los que se contaban Jean Genet, Barnett Newman, Wifredo Lam y Willem de Kooning. Herrera se unió a la influyente galería parisina Salón de Nuevas Realidades, donde hizo presentaciones junto a exponentes del arte abstracto como Max Bill y Piet Mondrian.




Pero aunque sus obras se presentaban aquí y allá, como en el Museo Alternativo en 1984 y El Museo del Barrio en Nueva York en 1998, nunca vendió nada. Su gran oportunidad llegó cuando fue incluida en un show en 2004 en la galería Latin Collector en Manhattan.

"El The New York Times y otras publicaciones hicieron reseñas maravillosas y esta vez vendió", dijo su amigo y vecino, el pintor puertorriqueño Tony Bechara. Ella Fontanals-Cisneros, una coleccionista con una fundación de arte en Miami que lleva su nombre, compró cinco pinturas. La coleccionista y filántropa Estrellita Brodsky adquirió igual número de cuadros y la presidenta emérita del MoMA Agnes Gund compró varios y le donó uno al museo.

¿Quieres ahorrar? Recibe descuentos en compras, entretenimiento, salud y mucho más.

La Galería Lisson, que representa a Herrera, se interesó en su trabajo luego que su propietario lo vio en una exposición en Londres.

"Estaba terminando las obras y poniéndolas en una caja cuando él vino y dijo, '¿puedes sacarlas de la caja?''', relató Bechara. "Casi le digo que no. Él se interesó. Es una de las galerías más importantes del mundo y entonces se corrió la voz".

La fama no ha cambiado su estilo de vida. Continúa pintando a diario; "todavía tengo mucho que decir", asegura.

Feliz centenario de vida a Carmen Herrera por su talento, pero sobre todo, y desde ya, por su legado artístico.




También te puede interesar:



Página de inicio de AARP

Foto y Videos: Youtube