App of the Week: Is there a Doctor in the House?
So you're on vacation or on a business trip away from home and you break out in a rash. What are you going to do? The thought of waiting three hours in a hospital emergency room is painful. You know you need a doctor--but where can you find one?

ZocDoc to the rescue. ZocDoc is an amazing little smartphone app that offers a free service, enabling patients to search for doctors by location, specialty and by insurance accepted.

After download, the search page opens for you to make your selections.
You select the type of specialist you want, the reason for your visit, your current location (where you enter the zip code or city you want treatment, the date you want treatment and your insurance company and insurance plan).
You touch the red search button and voila you receive a list of physicians in your area with their first available appointments.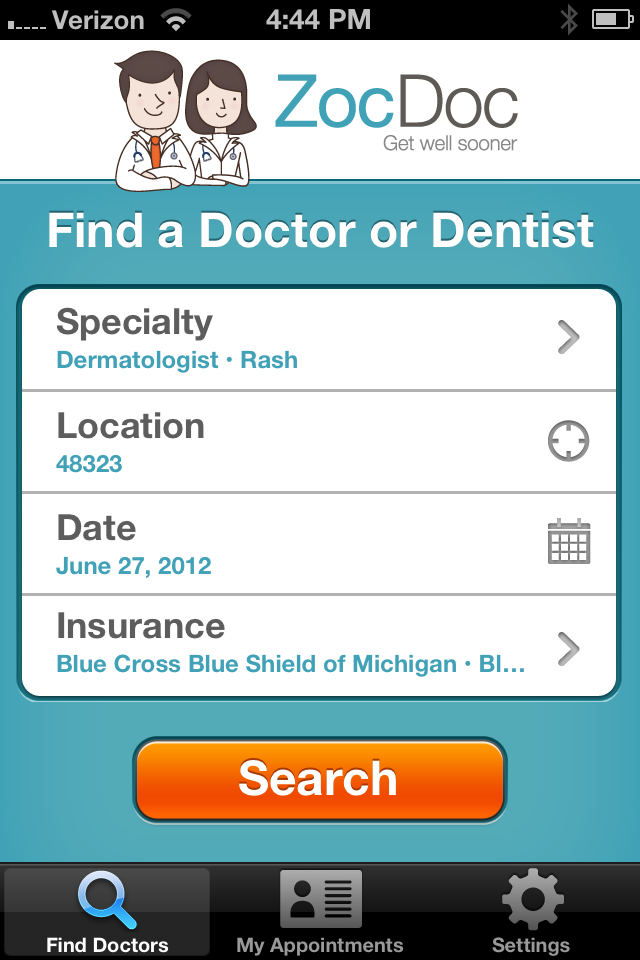 Each doctor that has appointments available (within a three day period) is listed. In addition, each physician is rated by other ZocDoc users. All doctors list the languages they speak, their education, hospital affiliations, board certifications, professional memberships, awards and publications.

Admittedly, the wait time is a few days for a specialist, but internists can meet requests within 24 hours.

According to the folks at ZocDoc, 40% of ZocDoc patients book an appointment that takes place within 24 hours and 60% within three days. ZocDoc is used by more than 1,000,000 patients each month, offering more than 5.5 million available appointments at any given time.

A ZocDoc study claims that more than 1 in 10 ZocDoc patients are over 50 years old. With more than 1.3 million people using ZocDoc each month, this means more than 130,000 of them are over 50.

While many Boomers may have regular doctors or have friends who give them referrals, this is still a good app to add to our phones. It's super easy to use.

It's also a great app to share with your kids and grandkids that often live and travel away from home. So many of these kids are transient so it's comforting to know they can carry a doctor in their pocket.

ZocDoc is available as an app on iPhone, Android and BlackBerry. It can also be accessed by website at www.ZocDoc.com