App of the Week: Words with Friends
I admit, I was hesitant about trying. I get a little scared with competition. But everyone I know is talking about it, so I pushed the button. I downloaded the Words with Friends game app.

Words with Friends is best described as a SCRABBLE â"¢type game that is played on your Android or iPhone, iPad or Facebook. You can play the game at your leisure with people from all over the world.

But I'm not good at word games. Even though I'm a writer and words are my thing, I freeze when games get competitive and then my play is lousy. So I was leery about getting started.

After staring at the app for what seemed like a decade, I opened it. I signed up, which was pretty easy, then looked at my options. I could play with my Facebook friends (not a chance, I thought) find other friends by their User Name (which I didn't know because I didn't want to tell anyone I was trying the game), or with a Random Opponent. I chose the Random Opponent. (Stunner.)

So I press Random Opponent and in a matter of seconds the game opens. Familiar board in front of my eyes, tiles with letters in the bottom row, and my name and someone else's in a scoring section.

The top of the screen says Your Move. So I start. I tap my little tiles in place; make a word, push Play and my score is posted. Whew, I did it. Now what, I wonder?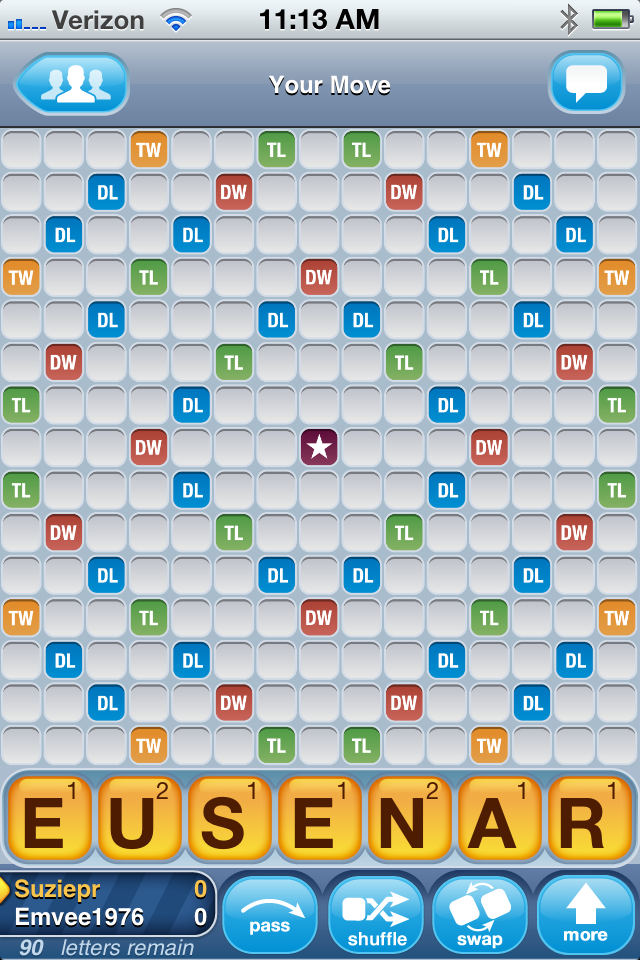 Within a couple of minutes, my opponent who I only know by screen name plays his/her tiles and the game is off. To my surprise, I was having fun. The rules are identical to the SCRABBLEâ"¢board game, but the virtual features add an element of excitement to the mobile app game.

I spent an hour playing games and by the end of the first day I emailed several of my real friends who I knew were big time players, got their screen names and started games with them. I had crossed the threshold of fear into fun.

I downloaded the free edition, which is jam packed with ads for more games. Personally, I found the ads annoying because you had to tap past an ad between every move. But now that I like the game and the brain challenge it provides me, I'm going to spring for the $2.99 version that is ad-free.

I really think this app is great for Boomers and Seniors because it gives us the ability to play a game we know, anytime, anywhere, and keeps our brains engaged, and that's important. Plus it's fun.

I have to thank my daughter-in-law for pushing me off the fear cliff. She gave me some serious ribbing for being too anxious to try something new.

So now that I confronted my virtual competitive fears, I need gamer app recommendations! What are you playing?

Do you have any favorite app games? Please give me your suggestions in the comments section.