Digifit: An Integrated Exercise App
I'm hooked on health and fitness digital devices.

I've become a fitness gadget slave in my quest to burn the most calories possible during daily exercise and now, with the Digifit App, all my stats are in one place.

I'm in love.

Digifit has rocked my workout world. The free app works on the Android and iPhone and does all the basics like track your workouts, record times and analyze results. But the real wonders come when you pay $7.99 to connect and sync all of your gadgets and weight loss apps together.
After I wake up each morning:

- I hook my Fitbit to my clothing to begin counting my steps.

- I head to the gym and attach my Schoche heart rate monitor on my arm.

- Open my Digifit App on my smartphone that integrates the Fitbit and Schoche information.

- Hop on the bike, elliptical or treadmill, press the Digifit icon that matches the machine I selected, and everything ignites.

Within seconds, through Digifit, I see my heart rate, my workout zone, my calories burned, my time, distance, and lots of other great stats. I can listen to my phone's music playlist through the app, receive phone calls and texts, and never miss an exercise beat.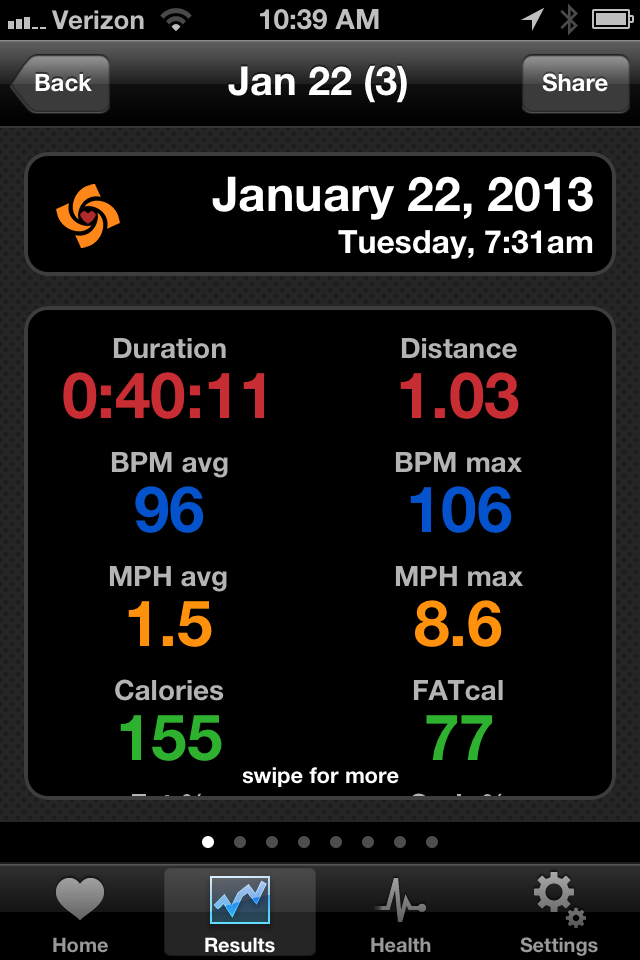 An Organized Workout

Now my extremely personalized entire workout is in one place -controlled through my smartphone.

- Easy to understand instructions guided me through the initial setup process where I entered my age, weight, resting heart rate and maximum heart rate into the app (It can also be done on the computer through the app's dashboard).

- The terrific web dashboard has simple to understand instructions that helped me figure out my resting and maximum heart rate.

- In addition to pairing it with Fitbit and my heart rate monitor, I also added my calorie counting-fitness app LoseIt (there are several available for selection).

- It also has the ability to link with other activity and health devices like the Withings Body Scale, Withings Blood Pressure Monitor, and the Zero Sleep Monitor --three gadgets I don't presently own -yet.

The Takeaway

At the conclusion of a workout there are:

- Straightforward data charts measuring heart rate at each phase, distance, and calories burned, even fat calories burned.

- Tracking tabs of workouts segregated, by times, heart rate recovery, calories, distance, etc
.
- Tabs to "share workout" that add the calories burned to LoseIt or MyFitness Pal with one tap. A "sync" tab that syncs all the values of the workout to the apps website for further review.

- A computerized male gravitar that jumps up and down shouting "great job", "new record" or "way to go."

Digifit and its digital components are my new BFFs of exercise. I never leave home without them.



Also of Interest

Join AARP: Savings, resources and news for your well-being


See the AARP home page for deals, savings tips, trivia and more