Monday App: Words with Friends
By Beth Carpenter, October 18, 2010 05:26 PM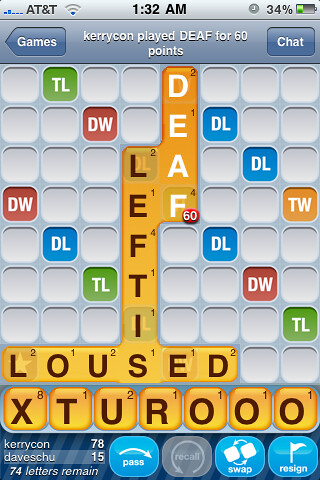 (via Dave Schumaker)
We all know and love Scrabble, the iconic Hasbro game that pops up at many a family reunion and holiday gathering. I once beat my uncle with VOYEUR on my last turn, a stroke of luck that likely won't ever be repeated. Well, maybe. I'm practicing.
Words with Friends is a similar game, made for the iPhone, Touch, and iPad devices, that lets you compete with friends anywhere - and at any pace. I'm playing Words with Friends with an old professor, my friend's husband, and an ex-boyfriend (among others) - and it's been at least a week since I've made a move. But the second I'm bored in line at the grocery store - you better believe my Scrabble-honed techniques are coming out.
While you're at it, make sure and download the AARP app. It's an easy way to keep up on our news, check out our recipes, and keep track of your membership information.