Move Over, Kids: AARP Members Are Taking Over the Internet
As if we needed much confirmation. You take us to task on our Facebook page; you Tweet us links to your blogs; you're repinning our pins. Every day, you tell us how you spent time learning a new gadget, or asked someone a little younger to show you how. Every day, you spend more money online than any other demographic. You're playing Words With Friends, you're selling your used fishing rods on Craigslist, and you're starting new jobs with a little help from your LinkedIn profile. When we blog about age discrimination by your employers, you respond with 66 strongly worded comments. Are you on the Internet? To us at AARP, it sure seems that way.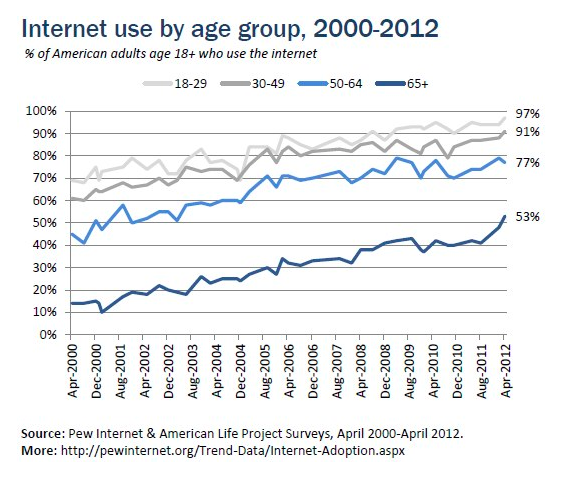 Now, Pew Internet has updated their statistics, and it's official: over half of Americans over 65 are now online. Of that 53 percent, two-thirds use the Internet every day. A few years ago, very few of you over-65 folk owned an e-book reader - now, one in ten seniors over age 65 have a Kindle, a Nook, or something like it.

"After several years of very little growth among this group, these gains are significant." - Pew Internet, June

Earlier this year, we looked at the existing statistics around how younger boomers and the 65+ used the Internet. Here's what we came up with:




We saw a lot of surprise on the Internet when these numbers got announced, so we asked AARP members on Twitter to tell us why they're Tweeting.


@AARP Watching TV shows like Amer Idol & DWTS put hash tags on the screen to have viewers comment in real time. Now I'm hooked on tweeting!— Carole Kuegerl (@carolekuegerl) June 7, 2012
@AARP I resisted Twitter for years, thought it was silly. Joined b/c it's a major information source. Found people with common interests.— Claudia Mackey (@RaysAndGymChick) June 7, 2012
Basically, my Dad said, "Given what you do & have done, you should check out Twitter." (a year before I actually joined). :) @AARP— Elin Silveous (@ElinSilveous) June 7, 2012



This much we know: You can't underestimate anyone because of their age.

What have you found useful about the Internet?