Social Media Lessons from Hurricane Sandy
By Jen Reeves, October 30, 2012 04:36 PM
As the AARP's new social media trainer, I am always keeping an eye out on trends and "teachable moments" online. Hurricane Sandy has offered a very big lesson: Don't believe everything you see.

If you live along the East Coast, you may have spent the day watching the news and following posts on social media while working from home (if the power was still on). Hundreds of thousands of people were asked to stay indoors. It was an environment that was ripe for sharing content online. One of the fastest spreading images was this one: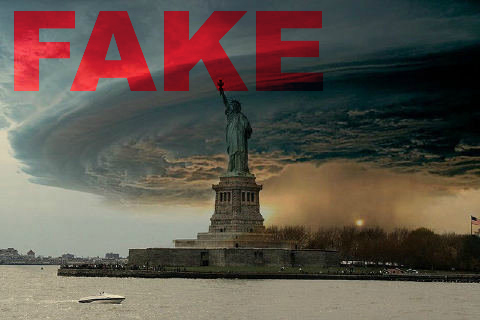 The photo is really cool. But the actual story behind this photo is this is an old picture of the Statue of Liberty and it's merged with a supercell photo from Nebraska. I immediately noticed this photo was fake because there are people on the island. There were no tourists on Liberty Island yesterday.

I wasn't the only person who noticed the spread of unverified or incorrect photos. The site, Buzzfeed, shared a list of incorrect photos. In my quest to learn more about some of the photos that were spread across sites like Facebook and Twitter, I discovered a really fascinating site called, Is Twitter Wrong. I am collecting a list of online articles about the spread of incorrect information and how others are using social media to correct those mistakes.

There are resources out there that can help you decide if a photo is real or fake. My favorite right now is an ongoing page on The Atlantic that is tracking real and fake photos.

JEN'S SOCIAL MEDIA TIP: Stop for a moment before you hit share, retweet or reblog. If you cannot find information on an image or fact you want to share, I suggest passing it over and share something you created instead.

What have you seen online? Do you have sites you follow that helps verify information you discover in social media? Share your lessons and experiences in the comments.