Too Many Deals and Coupons? GeoQpon To The Rescue
By Suzie Mitchell, October 25, 2012 12:49 PM
Who doesn't like a great deal? And now, it seems every store around has an app promising to put "deals of the day" at your fingertips. So what's a person to do? Deal management is becoming a full time job.

Enter the GeoQpon app. It's an up-to-the-minute aggregator of daily deals offered by ZIP code. Users are only asked to enter their ZIP codes, no other personal sign up information, which triggers a display of hundreds of deals. Deals can be segmented by category, distance, or brand. Users can also click on "Today's offers" to get really specific.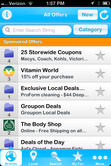 The app is categorized like this:

Brand offers: these are offers from major retailers. They are valid for in-store or online purchases depending on the offer.
Local offers: these are from local stores in and near the ZIP code users select. Users can filter by category, location, or even by entering a particular name for the retail establishment.
Favorite: just like other apps, you can select the star next to the store name or offer title for easy reference. (I already am a favorite to Camp Bow Wow, which is a beloved locale of my Goldendoodle Lexie.)
Once of the cool things about GeoQpon is it also displays local Groupon deals, baking both of the deal sites into one app. Once users select a deal, they can view a map of its location. Users can redeem their deals by showing the offer image on the phone to the store cashier. There also is a print option using the email feature for those more comfortable with paper.

The free app is available on iPhone, iPad, Android, Blackberry and Nokia. Users who want the free app have to tolerate the scrolling ads on the bottom of the page for area establishments. Ad-free packages are available for three months at $2.99, six months at $4.99 or one year for $7.99.

The app is using crowdsourcing to expand its business. Users are rewarded with GeoCodes, which are unique, personal codes that allows them to receive money for recruiting their favorite local retailers and restaurants to publish offers on GeoQpons. Only businesses that pay for the service are included, so users won't find all of the deals available in the universe on the site.

Social networking plays a major role with this app. In addition, users are frequently asked to post reviews in the app stores, on Twitter, and on Facebook.

The app is pretty straightforward and easy to use, and users can pick deals as they travel throughout the day using the app's GPS device. So I think GeoQpons might have a real place in the coupon market. What do you think? Have you seen another app that does this better?