Use 'Slice' to Keep Track of Online Shopping
By Suzie Mitchell, December 6, 2012 06:42 PM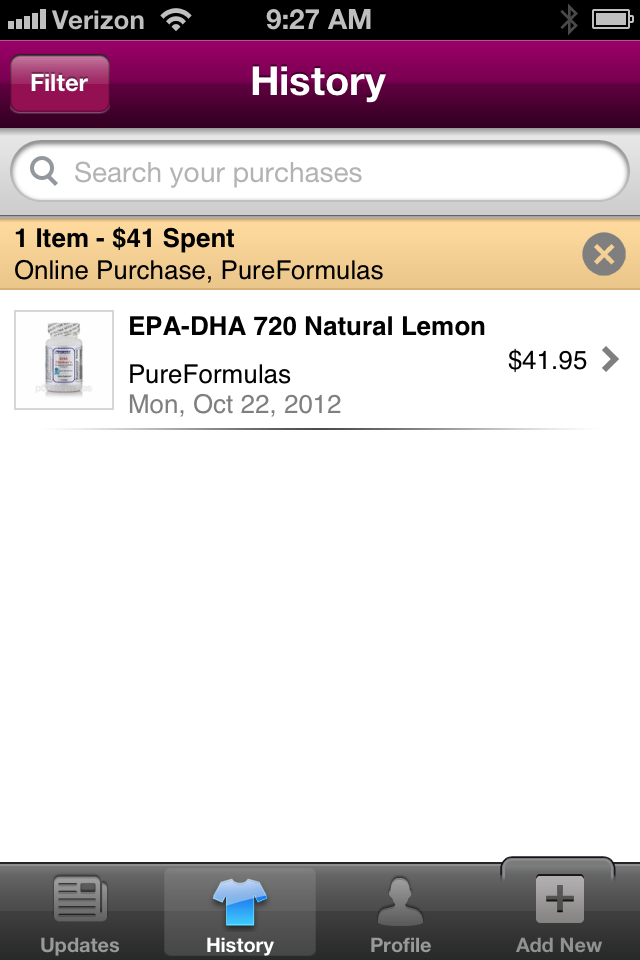 I love discount online shopping. In fact, some days I worry I'm addicted to it.

I'm a member of the popular deep discount "members only" clothing and home goods websites Gilt Groupe, Rue La La, Haute Look and One Kings Lane. I say "members only" with a smile, because anyone who signs up becomes a member.

Every day, and twice a day during the holiday shopping season, these sites send me emails highlighting items that are discounted 50 percent or more.

On the average, their deals last three days. During the last couple of years I've bought a pair of gloves, a couple of ties for my husband, and some earrings. Many of the clothes seemed geared to younger people, or just not right for my body, so while I look every day I'm not a frequent buyer.

Recently, my 30-something fashionista niece told me about the Neiman Marcus Mid-day Dash site.

"It's great, Aunt Suzie," she says. " Every day for two hours around noon Neiman's offers great clothes for huge discounts. "

Her mom scoffs, saying, "Sounds great, but who is at their computer at noon?"

I am. I'm a writer, and most days I'm front and center at my computer. (There is a mobile app for the site, but personally I like to do my shopping on a large screen.)

So I sign up for emails on the Neiman Marcus main site. Of course, that includes the Mid-day Dash and Neiman's Last Call store-the 24-hour deep discount center. More discounts! More shopping!

The emails start flooding my inbox, fervently calling my name, enticing me with the best sales of the day, promising slashed prices. I'm hooked. I feel like one of those people lining up outside of the stores on Black Friday waiting to rush in for the big day bargains.

Add those sales to the daily Groupon and LivingSocial deals, plus the holiday sales from department stores, and my email box is swarming with stuff I just don't want to miss.

I've become a Boomer statistic. According to a Forrester Report published in November 2011, boomers aged 56-66 spend the most online, followed by those aged 46-55. Only the oldest Americans spend less than Gen X (and slightly less than Gen Y) online.

To track my completed online purchases, I file the confirmation email in a folder in my online mail account marked "email orders." That's worked pretty well, but sometimes I forget the details of the shipping dates. And I definitely forget the amount of money I spend online.

Then I discovered a free app called Slice, which has given my online shopping a reality check. It's available for iPhone and Android. I registered for Slice with the email account I use for online purchasing, and all my online activity was imported into the app.

Slice claims it's "the simplest way to organize everything you buy online. Link your email box and it automatically works across your favorite merchants."

It's really true. With a couple of easy steps, all my online purchases were imported to my phone.

The wow factor for me is the "History" feature. On one screen I can see my purchase history. Each entry contains the name of the item, the store where it was purchased, the date it was purchased, its price, a photo, and a notation if it's in transit or delivered. It includes the order receipt, the store phone number and a "return by" date.

Across the top of the page is a scroll bar containing the number of items purchased and the amount of money spent for online purchases. The first time I saw the figure I nearly fainted, but then I realized it dated back to 2010. Then I saw the "filter" button. Whew.

The app filters purchases by date: last month, last six months, last year, or a custom date range of your choice. It also filters by category (apparel, electronics, office products, toys, travel, etc.), by item type (hotel reservations, subscriptions, tickets, etc.) and by specific merchant.

Last month I ordered some vitamin supplements online and wanted to order some more, but I couldn't remember the site name. When I was scrolling through the Merchants section, which only contains merchants I have used, the site name popped up. That's cool.

Using this app will help me manage my holiday shopping well. It will be right at my fingertips on my phone when I'm in the mall. That way when I'm wondering "did I already buy a gift for my 1-year-old grandniece, " I can check Slice.

And it will keep me abreast of my "midday dash" purchasing, which is sure to curb my race for the deal.