Using Social Media to Support Sandy Victims
By Jen Reeves , November 05, 2012 11:32 AM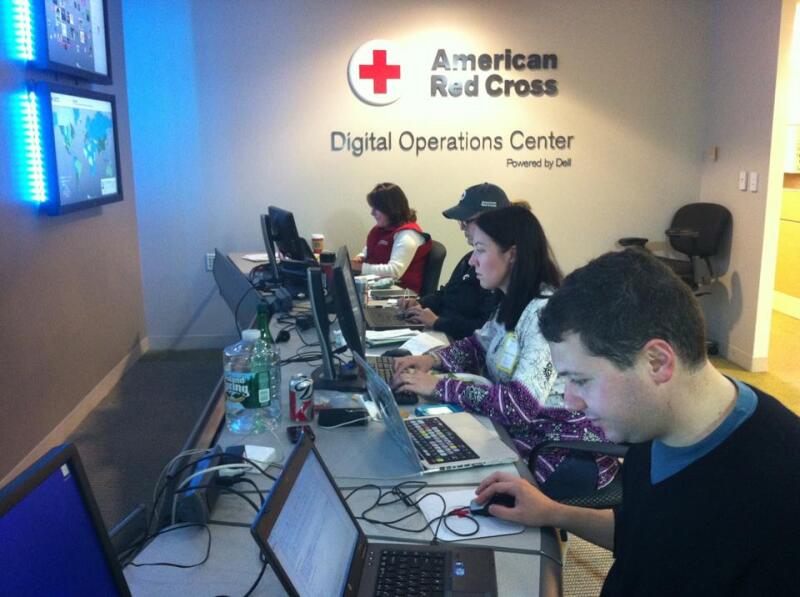 Hurricane Sandy roared into the East Coast during my first week as the AARP's new social media trainer. I noticed how many people were sharing incorrect information on social media and wrote a post explaining ways you can check the information you share with friends. In the aftermath of the storm and the growing crisis to provide assistance to thousands of people in 12 different states, I wanted to reach out and help. Luckily I'm friends with a leader at the Red Cross who encouraged me to jump in as a digital volunteer at the organization's Washington, DC headquarters. I had to extend my stay here thanks to the storm, so I loved the chance to help.
The Red Cross has an operations center that tracks messages and helps a digital team target locations and needs across the storm ravaged areas. I had the opportunity to help listen to questions, requests and needs on Facebook, Twitter and Instagram. (That's me in the picture with a purple and white shirt.)
The one thing I found remarkable about social media in a crisis is how helpful and challenging it can be at the same time. If the Red Cross did not have a team of people listening to the online conversations, locations in need could have been missed. And there are SO many portions of the East Coast in need. I may not be a Red Cross volunteer who can travel to help, but I feel like I was able to make a difference from behind a computer screen. There are so many emotions running high during this difficult time.
JEN'S SOCIAL MEDIA TIP: If you are interested in participating in the Red Cross Digital Volunteer program, you can learn more at this link. If you are interested in giving to victims of Superstorm Sandy, you are welcome to take part in the AARP Foundation's matching fundraiser. If you can help raise $500,000, the AARP Foundation will match it. I also collected many different resources to volunteer and donate on the Red Cross Facebook page.
In the aftermath of Hurricane Sandy, did you catch yourself volunteering or donating your time or money in a different way? We'd love to hear from you.
[Photo credit: Laura Howe, American Red Cross]