Bargain like the Grannies: A Guide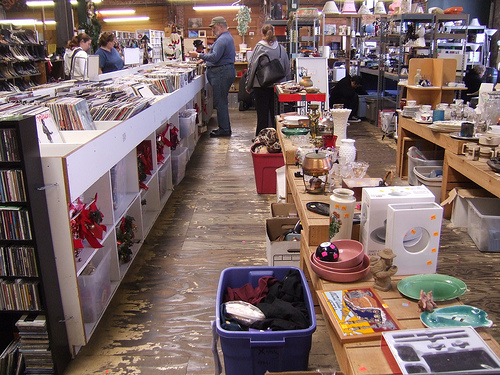 I travel all over the world and I am known as one of the greatest shoppers ever! No flea market, neighborhood store or thrift shop in any part of the world, is missed by me. I have bargained in Europe, Africa, South America, Asia and well ....all over the United States.

When you think about it, bargaining has been the way all cultures have been set up for thousands of years. It's only in modern times with big box stores and chains that paying a fixed price has become the norm. In most developing countries it's considered rude not to bargain or haggle, or do a give and take, walk away and come back dance. Most cases it's not the amount but the ritual that's more important - it's considered honorable interaction and the way to communicate.



My mother got me started visiting and shopping at what was called in the 50's "second-hand" stores. Some of the antique furniture, quality dishes and stemware that I have in my house came from these shops. She would buy a sofa for its 'bones" and get it reupholstered over and over again. Chairs, tables - it didn't matter as long as the items were quality. And as her daughter, I gladly carry-on her tradition to look for value and quality in thrift stores, and my daughter is my best shopping companion.

Granny Regina's bargain and thrift tips:

Be respectful - if you are at a flea market or out of the country, remember that these sales may be the only income the seller has.
Carefully examine the item you are interested in purchasing, as most thrift stores sell items as is with no refunds. If out of the country, it's clear you won't be returning. Select carefully.
If you see something you really like, especially in a foreign country, buy it! You will never see one cheaper later on and will leave without something that was only a few pennies more than what you wanted to pay in the first place.
Conversely, if there are hundreds of the same things you want to buy, then select the one you really want and let the games begin.
I always begin determining the cost of what I will pay and then divide my bargaining up into thirds. Offer the first price from your lowest third level and then inch up to the second third level.
Remember, the seller knows what his bottom line will be, and you need to find that middle.
Don't bargain disrespectfully.
You find something in a thrift shop in the U.S. and you want it, but it has a stain (that can be removed) or needs its entire buttons replaced, do bargain with the store sales people.
Visit thrift store discount days - the Unique Stores near my house always has half-price off on Monday's. A blouse, or sweater may be $12 and you can get it for $6 just by going on discount day. They even have yellow, green and red tag days too.
When shopping for clothes, wear tights and leotards with a top that can be easily removed. Most thrift stores do not have fitting rooms. Try on your items of interest over the tights - thus no need to disrobe.
Don't go hungry or be in a hurry - give yourself the time you need. I consider thrift store shopping as therapy for me and I take my time.
Don't buy something you have no purpose for or don't need. Another pair of black jeans to go with your other 15 pair is just silly!
Consider carefully if you want to go with a friend or friends - think about your shopping styles- I go it alone because I have a lot of patience and I am a systematic shopper. It irritates me when the person I am with takes a cursory look and says - okay let's go, I can't find anything. ARRGH.
Until next time! Please, share your bargaining and thrifting tips in the comments.

- Granny Regina

(Previously: Granny Pat's tips on shopping light while you're traveling.)

Photo: Community Thrift Store, Valencia, San Francisco.