Cruise Tips: Keys to Smooth Sailing
I have 10 cruises under my belt - enough so that I've developed a protocol that helps me start enjoying myself as soon as I'm on board. Here's what I do.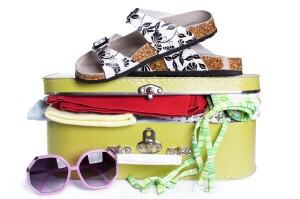 I always bring a carry-on. That huge bag I packed might not be delivered to my room for hours (and I know it'll have to be ready to go again the night before the cruise ends). In a carry-on, I'll have the things I want to use immediately: swimsuit, sunblock and something colorful to wear that says "I'm on vacation!"
>> Sign up for the AARP Leisure Newsletter
I do some legwork upfront to find a special spot for peace and quiet. It's actually pretty easy, no matter how big the ship is and how many thousands of fellow travelers I'm with. On a Royal Caribbean cruise, I found a small Mediterranean buffet set up on one of the back decks during cocktail hour: beautiful vegetables, breads and cheeses - and practically no people. We spent every night enjoying the sunset with a glass of wine.
I check in with the kitchen staff. There's a good chance many are from India or Bangladesh - so if there's a curry on the menu, go for it. Better yet, ask if there's a place on the ship where the staff prepares favorite foods every day. Once on a Carnival cruise, I found a small side buffet on the pool deck where the staff served up homemade naan, cumin-spiced vegetables and a variety of curries, as well as a refreshing mango lassi. I was in heaven.
I go to the main dining room for breakfast. A buffet for breakfast and lunch on a five-day cruise is too much buffet. I enjoy being served a nice breakfast without the sound of a hundred food trays slamming down all around me.
>> Get travel discounts with your AARP Member Advantages.
I opt to stay on board in at least one port - generally at a tender port, where you have to board a smaller craft to get to the dock. The most miserable I have ever felt on a cruise was when I had to wait on the ship in a long line to get on a little, rocking boat to go ashore - and then having to repeat the process at the end of a long, hot day. Never again.
I take the stairs. Unless you have a physical challenge it makes life easier. The elevators take forever and stop at every floor. Besides, after all that eating, it's good to get some exercise!
Illustration: HelenaRakhuba/iStock
Also of Interest

See the AARP home page for deals, savings tips, trivia and more