How to Hike the Appalachian Trail: Quick Tips
By Beth Carpenter, November 10, 2010 03:57 PM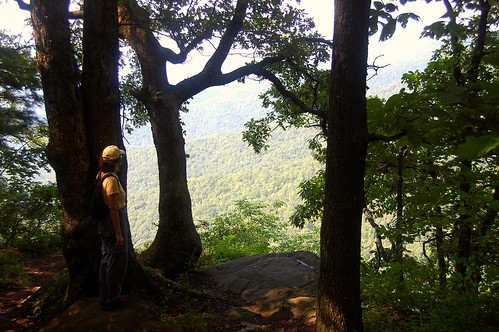 Written by Lindsay Zoladz from Your Life Calling.
After premiering her latest Your Life Calling segment on the Today Show (and meeting Julie Andrews in the green room backstage!), Jane Pauley hosted a live chat this afternoon on AARP.org. She was joined by the subject of this month's YLC segment, Joe Liles - who hiked the Appalachian Trail at age 59 - and Lorrie Potteiger from the Appalachian Trail Conservancy. Discussion ranged from reinvention talk to hiking advice to backstage tidbits about the Today Show. A few highlights:
Justin: I'm 22 and have been dreaming of hiking the AT for many years. I have done a lot of research. As for as food provisions go I know a lot resort to oatmeal or instant mashed potatoes. What were some of the foods you enjoyed during your expedition?
Joe Liles: Justin, I went with commercially prepared dehydrated food pouches. These are available at any outfitter's store. This is more expensive but worth it in terms of ease and not washing any dishes. You simply add boiling water to the pouch and wait for thirteen minutes. There are many great offerings of meals, both vegetarian and carnivore.
Lance: Are there any similar trails in the US to the Appalachian Trail. Out West, or perhaps even in Canada?
Laurie Potteiger: Lance, the Continental Divide Trail and Pacific Crest Trail are two trails in the West that extend from Mexico to Canada. You might be surprised to learn the A.T. is considered more difficult. The western trails are more gradual because graded trails are built to accommodate horses. The A.T. is more rugged.
Randy: How many married couples thru-hike the A.T.?
Potteiger: Randy, A significant number of couples do hike the A.T. Every year, there are perhaps a dozen, including some who thru-hike the A.T. as a honeymoon. There's a great book for couples who are contemplating a thru-hike called Solemates--Lessons on Life, Love & Marriage from the Appalachian Trail.
Jennifer: It's so nice to see you again, Jane! I'm loving your pieces on the Today Show. Very inspiring! Thank you!
Jane Pauley: Jennifer, thank you. I'm having a great time doing these stories. They're all so different. There are as many paths to reinvention as there are definitions of it. One particular pleasure I take though is the evident interest that Matt Lauer and Meredith Vieira take in our stories. Today for instance, Meredith seemed ready to trade her stylish knee-high boots for hiking shoes on the spot.