Ashley Campbell: Alzheimer's Is Stealing My Father's Memories
By Tamara Lytle , April 25, 2013 06:02 PM

It had all the makings of a doleful country song - a heartbroken young woman watching her father's memories slip away from Alzheimer's Disease.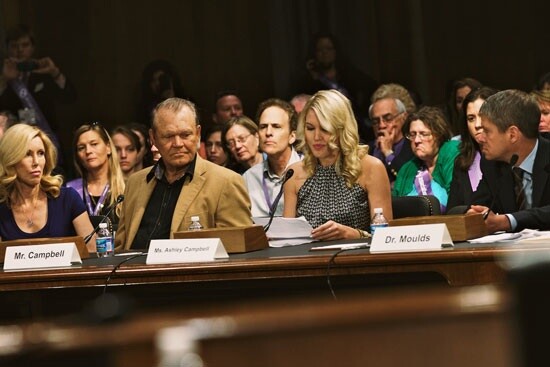 Ashley Campbell told her story to the Senate Special Committee on Aging on April 24. Beside her sat her father, country music legend Glenn Campbell, who no longer tours because of the disease. They were there to press for a plan by the Alzheimer's Association to find effective treatments by 2025.
Ashley Campbell spoke of memories stolen from her father, good times like their jam sessions, him on guitar and her on banjo.
"Now when I play banjo with my dad, it's getting harder for him to follow along. And it's getting harder for him to recall my name," she said. "It's hard to come to the realization that some day my dad might look at me and I will be absolutely nothing to him."
She had a sympathetic ear from committee member Susan Collins, R-Maine. Collins wore the purple suit she dons each year to honor lobbying for Alzheimer's research. She hopes the day comes when she can retire it, she said.
"As someone whose family has experienced the pain of Alzheimer's time and time again, I know there is no more helpless feeling then to watch the progression of this devastating disease," Collins said. "An estimated 5.2 million Americans have Alzheimer's, more than double the number in 1980. Based on the current trajectory, more than 16 million Americans over the age of 65 will have Alzheimer's disease by the year 2050."
Also of Interest

Join AARP: Savings, resources and news for your well-being
See the AARP home page for deals, savings tips, trivia and more.
Photo: David Johnson/Alzheimer's Association