Age Becomes an Issue (Sort of) in GOP Senate Race
By Bill Hogan , July 17, 2013 05:23 PM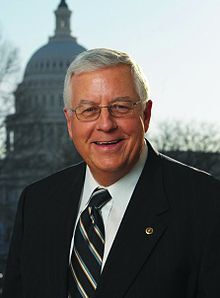 On July 16, Republican Sen. Mike Enzi of Wyoming let it be known that he will seek a fourth term in office.
About 30 minutes later, Liz Cheney, a political commentator for Fox News and daughter of former Vice President Dick Cheney, made public her intention to challenge Enzi in next year's GOP primary.
"I'm running because I believe it is necessary for a new generation of leaders to step up to the plate," Cheney, 46, said in a video announcing her candidacy that was posted on the Internet. In it, she did not mention Enzi by name.
In an apparent reference to Cheney's call for "a new generation of leaders," the senior senator from Wyoming, who celebrated his 69th birthday in February, seemed to get just a tad defensive about his age.
"I'm absolutely not too old to be senator," Enzi told CNN's Dana Bash. "I'd say that I'm kind of in the median age for this body. I'm in really good health, and I'm on the committees that I wanted to be on. And I have seniority, which is really trust that you develop."
Enzi is one of 36 U.S. senators in their 60s (21 are in their 70s and one is in her 80s). When it comes to the median age of U.S. senators, however, he was just a bit off: As of June 16, it was 62 years, 34 days.
Also of Interest

Join AARP: Savings, resources and news for your well-being
See the AARP home page for deals, savings tips, trivia and more