Meals on Wheels Caught in Budget Food Fight
By Tamara Lytle , May 08, 2013 05:13 PM
Meals on Wheels programs across the nation are seeing the pain of federal budget cuts. The system that delivers hot meals to millions of home-bound or low-income seniors five days a week isn't near collapse. But with across-the-board spending cuts, called sequestration, taking hold since March 1, local programs have begun to limit who they serve and intend to pull back in other ways.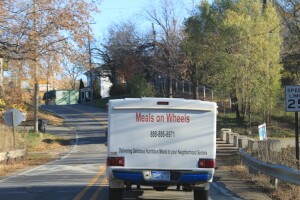 "It's a slowly developing crisis," Martha Roherty, executive director of the National Association of States United for Aging, told CNNMoney.

Here's how the Huffington Post detailed a Virginia program's situation:
"Michele Daley, director of nutrition services at the Local Office on Aging, which serves Roanoke, Alleghany, Botetourt and Craig counties in Virginia, said the agency expects to receive $95,000 less in federal funds this year (it has an operating budget of $1 million). They're gradually reducing the number of people receiving daily meals from 650 to 600 as a result of the budget cuts. Already, the office has planned to stop handing out most emergency meals - bags of shelf-stable items like canned beans distributed in advance of snowstorms and holidays. And they've instituted a waiting list.
Such lists aren't unusual elsewhere, but "We've never had a waiting list," Daley said. "This is the first time ever, and it's a direct result of sequestration."
In the suburban San Francisco Bay area, Meals on Wheels of Costa Contra recently launched an urgent appeal for more donations to avert dropping 200 people from its roster of 1,200. Program director Paul Kraintz told CBS San Francisco that the organization has been wrestling with budget issues for several reasons, including increased demand and reduced donations since the recession.
But the loss of $100,000 of federal funding dealt a crucial blow. "The sequestration was a bridge way too far," he said.
Other local programs will begin delivering frozen meals instead of hot ones or cut the number of days hot meals are served at senior centers. All in all, estimates the White House, 4 million fewer meals will be delivered because of sequestration. The Meals on Wheels Association of America sets the number much higher at 19 million.
AARP Foundation's Drive to End Hunger program hears about the impact from local partners. "In communities across the nation there continues to be a growing number of older people in crisis everyday," said Patricia Shannon, senior vice president and chief financial officer, AARP Foundation. "And programs like Meals on Wheels and others often are the lifeline for struggling seniors. We believe that sequestration could be devastating, perhaps-life threatening to frail and vulnerable seniors who rely on these programs to get nutritious meals that maintain health and independence while also providing daily social contact."
Travelers whined when the cuts in air traffic control staffing caused flight delays. Why aren't low-income seniors expected to get the same reprieve? "They don't have high-priced lobbyists," Alan Winstead, the executive director of Meals on Wheels of Wake County in Raleigh, N.C., told CNN.
Photo: Dwight Burdette via Wikimedia
Also of Interest

Join AARP: Savings, resources and news for your well-being
See the AARP home page for deals, savings tips, trivia and more