Mitt Romney's No. 2: Rep. Paul Ryan of Wisconsin
By Election 2012 , August 11, 2012 11:23 AM
Make room, national economy. Medicare and Social Security have just moved to the political front burner with Republican Mitt Romney's selection of Wisconsin Rep. Paul Ryan as his running-mate.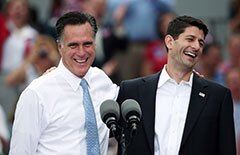 Ryan, the chairman of the House Budget Committee, started out in politics as a Republican congressional aide immediately after graduating from Ohio's Miami University in 1992 (with majors in economics and political science). He's been elected to the House seven times since 1998.
Ryan's budget plan, approved by the GOP-controlled House largely along party lines, would give newer Medicare enrollees the option of receiving vouchers that they could use to buy health insurance on their own. Proponents of the idea say that it would lower costs by creating competition, but opponents fear that Medicare beneficiaries would see benefits reduced under what they call a "privatized'' system.
Ryan also advocates allowing younger workers the option of investing part of their Social Security contributions in the stock market.
Some Republican candidates who've backed the Medicare proposals in Ryan's budget plan have seen them become a hot-potato issue in their campaigns. Last year, Western New York Democrat Kathy Hochul won a special election to Congress in large part by accusing her opponent of backing cuts in Medicare, and in June, a special election in Arizona had the two candidates sparring over who would protect Medicare more (the Democrat, Ron Barber, won that battle and the election). Republicans have hammered Democrats for $500 billion in cuts in Medicare - the cuts are in payments to providers, not in benefits - as part of the Patient Protection and Affordable Care Act, although the cuts are also part of the Ryan budget.
But Ryan's presence on the GOP ticket brings the issues to the national stage, especially in battlegrounds such as Florida and Nevada. A recent AARP survey shows that worries about retirement security are the main reason for economic anxiety among voters 50 and older.
While a recent Reuters/Ipsos poll had voters 65 and older saying by a narrow margin that Obama would do a better job than Romney in protecting retirement programs, it also had them giving a slight edge to Romney in a head-to-head race. Romney's selection of Ryan as a running-mate will surely bring more attention to the issues. - Susan Milligan
Photo: Win McNamee/Getty Images