Why People Love Their Medicare Drug Coverage
By Tamara Lytle, September 27, 2013 02:59 PM
Medicare's drug coverage gets a 90 percent satisfaction rating from people who use it.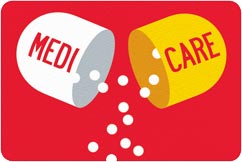 Medicare Part D, in short, gets an A from beneficiaries. Pretty good for a p rogram that barely squeaked through Congress 10 years ago.

Here's what Medicare beneficiaries think about Part D today, according to a national survey sponsored by the Healthcare Leadership Council:

Ninety-six percent say the drug coverage gives them peace of mind.
Ninety-five percent say their plan is convenient to use.
Eighty-four percent say that both their premiums and copays are affordable.
Seventy-two percent say they are better off than before they had the coverage.
Sixty-two percent say that without Part D coverage they'd have to cut back on or do without some of their medicines.
See Related: Medicare and You: Getting Started

"Ten years after becoming law, it is clear that seniors remain happy with their Part D coverage and that the program is meeting their healthcare needs," said Mary R. Grealy, the council's president.

Robert B. Blancato, national coordinator of the Elder Justice Coalition, points out in the Huffington Post that Medicare Part D costs are 40 percent less than expected and that premiums next year will be about $31 a month - half what was originally expected. "By just about any metric, Part D has exceeded expectations," he says. "More than 30 million Americans have affordable access to medications through the program."


Blancato and the Healthcare Leadership Council both argue that Congress should take the high satisfaction rates into account before considering any proposed changes in Part D.

Also of Interest:



See the AARP home page for deals, savings tips, trivia and more