Women Power: The Key to Avoiding the Fiscal Cliff
By Mary C. Hickey, December 13, 2012 06:46 PM
What would it take to keep the country from heading over the fiscal cliff?

More women running the show!

That seems to be the consensus of a bipartisan group of women U.S. Senators, interviewed earlier this week by ABC World News Anchor Diane Sawyer.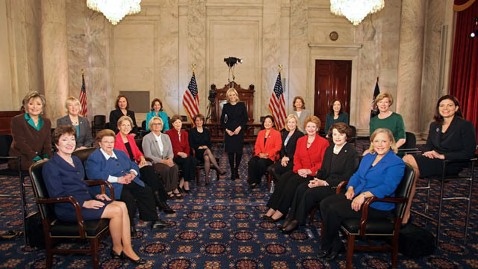 "I think if we were in charge of the Senate and of the Administration that we would have a budget deal by now," Republican Sen. Susan Collins of Maine told Sawyer, as 18 of her colleagues nodded in agreement. "What I find is, with all due deference to our male colleagues, that women's styles tend to be more collaborative."

Sen. Claire McCaskill, a Missouri Democrat, agreed that women, by their nature, are "less confrontational and more collaborative ... Not only do we want to work in a bipartisan way, we do it."

Unfortunately, it's still up to the guys to hammer out some kind of fiscal deal to prevent a big package of tax increases and spending cuts from taking effect next month. Even though the 113 th Congress will have a record number of female Senators - 4 Republicans and 16 Democrats - when it convenes in January, that's only a fifth of the total number. ("Whoop-di-do," Gail Collins quipped in her New York Times column last week.) And at this point, it looks like the poor fellows are still at an impasse.

But there's clearly something to the notion that women can be more effective at getting things done. In a study published by the Harvard Business Review, women leaders beat out men when measured on such traits as collaboration, teamwork, results-oriented and championing change.

Of course there are dangers to any kind of gender stereotyping, and we all know of plenty exceptions to prove the rule. But with Washington in gridlock and just a couple of weeks to go before things get ugly, maybe it's time to turn it over to the women in the House and Senate.






Photo: ABC News