Por qué los alimentos ricos en proteínas son tus aliados cuando deseas perder peso
By Sara Justicia, March 21, 2016 09:53 AM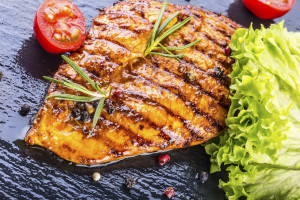 Todos los días debemos hacer el ejercicio de preguntarnos, ¿lo que estoy comiendo me alimenta o estoy ingiriendo calorías sin valor? ¿Estoy desayunando correctamente? ¿Estoy saltando comidas por la prisa o el stress?

Somos lo que comemos y llevar una buena nutrición nos hace sentir bien y disfrutar con salud nuestro años de vida.

La Academy of Nutrition and Dietetics nombró marzo el Mes Nacional de la Nutrición con el objetivo de reforzar la educación sobre cuán importante es hacer una selección sabia al momento de elegir los alimentos. Promoviendo, asimismo, el desarrollo de patrones nutricionales saludables y la actividad física.

Fotos: 10 formas creativas y económicas de hacer ejercicio en casa

Pues hablemos un poco de las proteínas y el auge que estas han ganado en los últimos tiempos. Resulta que, en efecto, las proteínas llegaron para quedarse y es que un estudio de Purdue University comprobó que el ingerir proteínas hace que uno se sienta más lleno. "Muchas evidencias sugieren que la proteína activa la liberación de la hormona de la saciedad [de sentirse lleno], y por lo tanto debe tener el vínculo más firme con las calificaciones de saciedad", informó el director del Centro de Investigación sobre la Conducta de Ingesta en Purdue, Richard Mattes.

Los investigadores advirtieron que a pesar de generar la sensación de llenura es importante destacar que no significa que la persona vaya a perder peso.

Suscríbete al nuestro boletín informativo para que estés al tanto de los temas que te interesan

"Las sensaciones como el hambre y la saciedad no son los únicos factores que influyen sobre el consumo [de calorías]", dijo Mattes sobre el particular. No obstante, destacó que aumentar moderadamente el consumo de proteína en nuestra dieta puede ser un primer paso para las personas que intentan perder peso.

¿Cuáles son las mejores fuentes de proteínas?

El portal WebMd apunta a los siguientes alimentos:



Pescado: Es una excelente fuente de proteína ya que usualmente es bajo en grasa. El salmón es un poco más alto en grasa, pero es de la buena para el corazón.
Aves de carne blanca: Sin piel porque la piel contiene grasa saturada. Así que debes retirarla antes de cocinar la carne.
Leche, queso y yogurt – Son excelentes fuentes de proteína y también de calcio y vitamina D; importantes para mantener los dientes sanos y prevenir la osteoporosis.
Huevos – La Asociación Americana del Corazón ha establecido que los adultos saludables pueden ingerir un huevo al día.
Si deseas consumir carne roja procura que sea magra y preferiblemente orgánica.


Descuentos en Salud y Bienestar: Ahorros de hasta un 30% en un estilo de vida más sano

Recuerda que las proteínas también pueden ser incorporadas en las meriendas.

Salud para todos.

Foto de MarianVejcik vía IStock.

También te puede interesar: