New AARP Research Explores Small Business Employers' Attitudes on Family Caregiving
As the U.S. population ages, more workers are taking on responsibilities for caring for family members with illnesses or disabilities. These duties can have a substantial economic impact on employees and pose challenges for companies to find ways to make the workplace more "caregiver-friendly." This is especially true for small businesses who often don't have the capacity or financial resources to establish formal caregiving procedures.

During National Small Business Week, AARP Research released new survey results highlighting the views and policies of more than 1,000 small business employers on the topic of family caregiving. The survey is one of AARP's ongoing efforts to support the 24 million Americans in the workforce who are currently balancing careers and caregiving responsibilities.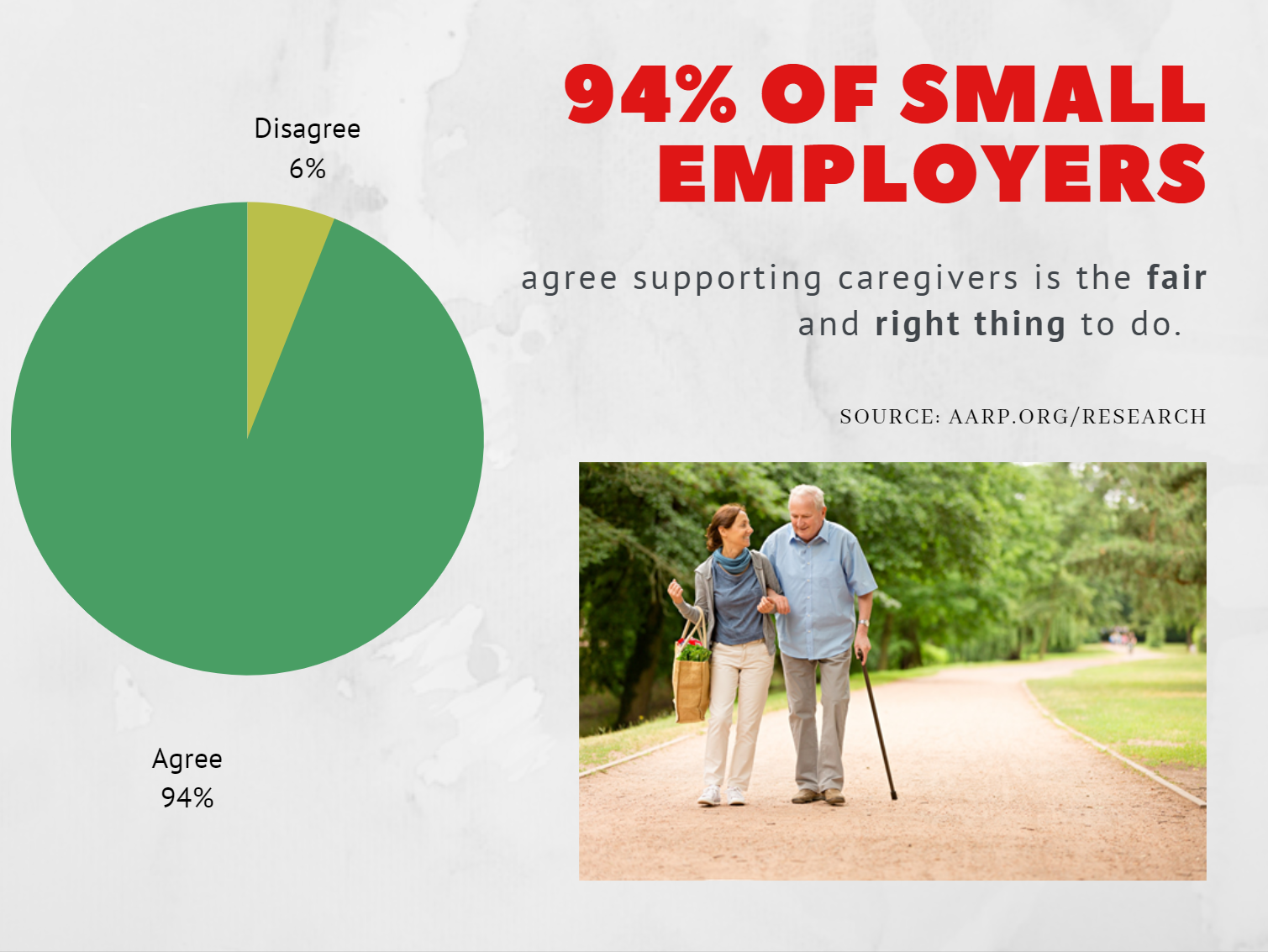 The survey found that most small business owners and decision-makers (64 percent) recognize the importance of family caregivers today and believe they will continue to be important in the next five years (65 percent). Additional key findings included:

Overall, 70 percent of employers have experience caring for a loved one and/or an employee has been a caregiver. Of those, most are still providing care.
The vast majority agree that supporting caregivers in the workplace strengthens employee morale (92 percent) and is the right thing to do (94 percent). However, only 18 percent of small business owners have a formal, written policy on family caregiving because there was never a need for one in the past and/or there was a desire to handle the issue on a case-by-case basis. The results found that the likelihood of having procedures in place increased with company size.
Most small business employers (83 percent) think their workplace is supportive of family caregiving. Many offer some type of unpaid support to employees, such as flexible schedules or unpaid leave, though relatively few (17 percent) offer paid time off designated for caregiving.
There is a perception among small business employers that family caregiving affects job performance (absenteeism, mental/emotional distraction), yet only half of respondents said their employee came to them with any concerns.
In addition to tips and do-it-yourself toolkits, most small business employers are interested in manager trainings and workshops on family caregiving. More than half (57 percent) would be willing to pay for these trainings.


To help improve productivity and foster a stable and healthy workforce, AARP will use the survey results to develop new resources tailored to small business employers to support their employees who are family caregivers and encourage implementation of formal policies. The tools will launch later this year.

To view the full survey results, visit www.aarp.org/smallemployercaregivingsurvey.