AARP Wins Sharecare Award for Video Celebrating Men as Family Caregivers
AARP recently won a prominent " Sharecare Award" for its video spotlighting men as family caregivers, raising attention to an often hidden but vitally important group of people. Co-produced with AARP Studios, the 3-minute video offers an inside look at a gathering of African-American men from Philadelphia who support one another and openly share their unique challenges.

According to the AARP Public Policy Institute, about 16 million men nationwide provide care for a family member or friend, equal to 40 percent of all caregivers. These figures may come as a surprise, given that most people think caregivers are women. The touching stories of these remarkable men highlight not only their challenges as caregivers but also the growing number of men caring for loved ones and their need for increased support. Through their compassion and resilience, together they help shatter the perceptions of what's expected from male partners and sons.



Sharecare, a digital health company, partnered with The National Academy of Television Arts & Sciences, New York Chapter, to host the inaugural Sharecare Awards. The competition aims to promote and reward excellence for the best health- and wellness-related programming across broadcast and digital media, including campaigns, documentaries, mobile apps, and podcasts.

AARP Public Policy Institute Vice President Jean Accius, PhD, who leads work on long-term services and supports, accepted the award for the Sexuality/Gender Identity category at a ceremony in Atlanta. AARP submitted four videos on the topic of men as caregivers, all of which received nominations. Additional Sharecare Award nominees across the nine health and wellness categories included the American Cancer Society, the American Heart Association, and the National Kidney Foundation.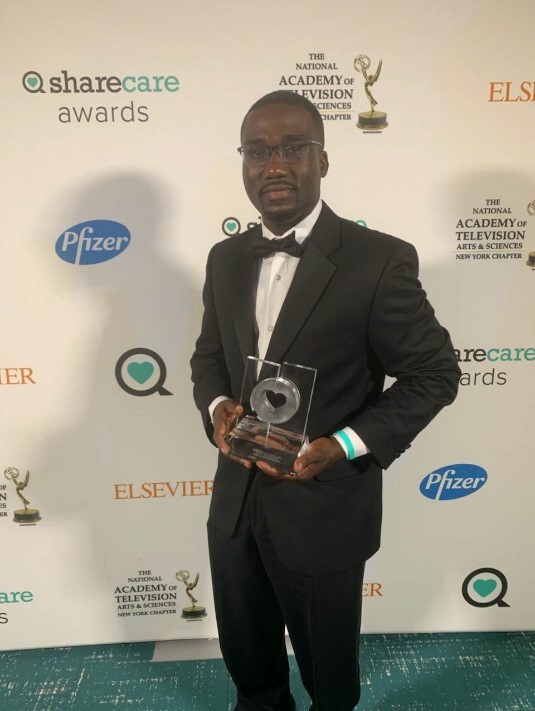 To watch all four of AARP's male family caregiver videos that were nominated, visit https://www.aarp.org/caregiving/stories/info-2017/celebrate-male-caregivers-studios.html.