Affordable Care Act Open Enrollment Is Underway; Shop Smart
By Alexis Sadoti, November 03, 2015 04:50 PM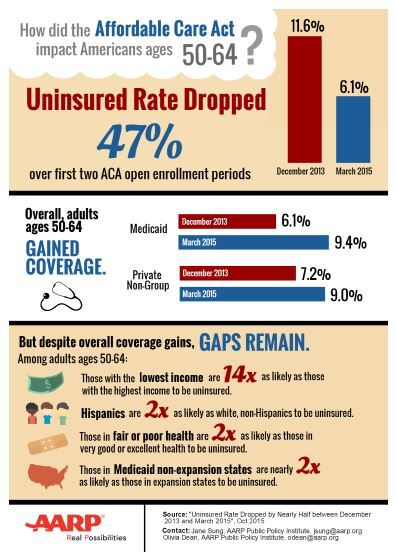 AARP encourages Americans to review their health insurance options during the Affordable Care Act (ACA) open enrollment period that started Sunday. Open enrollment (from Nov. 1 to Jan. 31) is an important opportunity for consumers to find a plan that could save them more money, offer better services, or include more of their doctors.
Since the Affordable Care Act's first open enrollment period in 2013, the uninsured rate for pre-Medicare Americans between the ages of 50 and 64 has dropped 47 percent. With this year's financial penalty for not having health insurance increasing dramatically, the once-a-year open enrollment period is a great chance to shop around for substantial savings on premiums for new enrollees, as well as returning customers.
People who have previously signed up for private health coverage through the Health Insurance Marketplace should receive a notice from their health plan and another from the marketplace about renewing health coverage. Some will be automatically re-enrolled in the same or a similar plan for 2016, while others must contact their marketplace directly to be re-enrolled. In either case, AARP strongly recommends consumers review their coverage and compare the details of their current plan with other available plans to identify the one that works best for them.
Get answers to your health coverage questions — Medicare Q&A tool »
For most consumers, ACA open enrollment is the only time each year they can enroll in or change plans as well as apply for financial assistance, which in many instances will greatly reduce a consumer's monthly premium. This can all be done in the Health Insurance Marketplace. People's individual health needs may change each year, so it is important to shop wisely and compare several health care plans to get the best coverage for their needs during open enrollment. When considering health insurance plans, people can see if their doctors and specialists are included in the plan's network. People can also consider the cost of the monthly premiums, deductibles and out-of-pocket payments.
The Health Insurance Marketplace Makes it Easier

Information on ACA open enrollment is available online through the Health Insurance Marketplace at https://www.healthcare.gov/get-coverage/ or by calling 800-318-2569 to speak with licensed insurance agents and brokers.
Contact a neighborhood navigator trained to help consumers look for health coverage options at https://localhelp.healthcare.gov/.
All health plans are listed in one place, for apples-to-apples comparisons of benefits and prices.
Insurance companies are required to describe what's included in simple language, so there's no guesswork about what's covered.
All plans offered in the marketplace are required to cover essential benefits, like doctor visits, hospital care, emergency care, prescriptions, preventive care and more.
AARP is a resource for information on accessing new benefits while offering tools to help consumers make the best health care decisions for themselves and their families.
Resources

Also of Interest

See the AARP home page for deals, savings tips, trivia and more.