Find the Fraudsters: AARP's Fraud Watch Network Offers New Scam-Tracking Map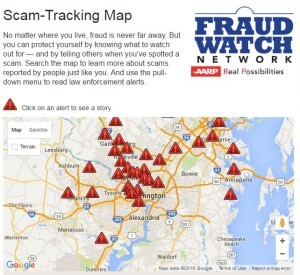 Fraud is a growing problem across the U.S., with more than 1.2 million fraud-related complaints reported to the Federal Trade Commission's Consumer Sentinel Network (CSN) in 2015 alone. Among those complaints, a total of $765 million was lost by consumers who fell victim to scams, according to CSN's February 2016 data book.
Of 30 complaint categories, CSN ranked identity theft as the second most common complaint reported to law enforcement, followed by impostor scams. (Debt collection was ranked first.)
While the numbers may be frightening, the AARP Fraud Watch Network is here to ensure that consumers stay notified and up to date about scams in their state and local areas.
Ways to save, expert investment advice, scam alerts and more! — AARP Money Newsletter »
The network continues its nationwide fight against fraud by launching the Scam-Tracking Map — an interactive Google map that allows consumers to report and locate fraud schemes in their communities via the web.
"Scammers have demonstrated that they are highly adept at developing creative identity theft schemes, impostor scams and other types of fraud," said Nancy LeaMond, AARP chief advocacy and engagement officer. "The Scam-Tracking Map will help people recognize these insidious schemes wherever they encounter them — via email, telephone or a knock at your door."
In addition to submitting instant reports, map users can search various types of scams by entering keywords, as well as view the latest public safety and police notices in their state by using a dropdown menu.
"With this map tool, we hope to further raise the visibility of fraud across all states," said Kristin Keckeisen, AARP campaign manager for the Fraud Watch Network.
To start pinpointing fraud in your community, visit the official Scam-Tracking Map at www.aarp.org/FraudMap
Also of Interest

See the AARP home page for deals, savings tips, trivia and more.