AARP's National Day of Action Urges Congress to Take a Bite Out of High Drug Prices
Make no fossil bones about it—high prescription drug prices are monstrous but far from extinct. At AARP, we know drug costs shouldn't be the scariest thing Americans face this Halloween. That's why AARP let loose our drug-price-fighting Tyrannosaurus Rexes—known as the "Rx T. Rex"—for a national day of action this week to roar about the need to Stop Rx Greed.

The Rx T. Rexes visited offices on Capitol Hill in Washington, D.C., and made stops in all 50 states, urging Congress to take a bite out of skyrocketing drug prices. AARP members across the country also joined them for the official "Take a Bite Out of Rx Prices Day," calling their members of Congress and pressing them to advance legislation in the House and Senate.

Check out some of the action below:

The Rx T. Rexes of AARP Maine roared about outrageously high drug prices at City Hall, the Chamber of Commerce, and local businesses in Portland. They even scuttled across Portland's own Abbey Road! The dinos also met with their members of Congress' district offices, Congresswoman Chellie Pingree and Senator Susan Collins, to urge them to make drug price-gouging extinct.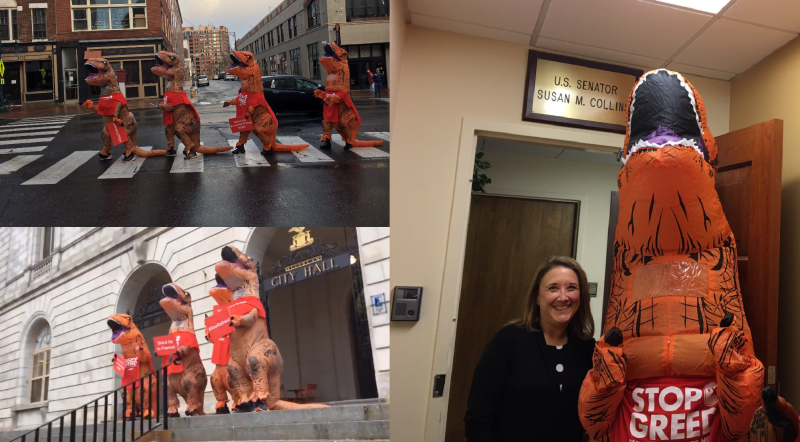 AARP Indiana's Rx T. Rex rumbled through downtown Indianapolis, interacting with the community and raising awareness of the need to stomp out Rx greed. Rx T. Rex then trekked to the offices of Senators Mike Braun and Todd Young, where the dino thanked the staff for their support to lower drug prices.


The AARP Nevada team and their Rx. T. Rex took to the streets of Las Vegas and chatted with visitors at the "Welcome to Fabulous Las Vegas" sign on the famed Las Vegas Strip. Then Rx. T. Rex, AARP Nevada staff, and volunteers met with the offices of Senators Catherine Cortez Masto and Jacky Rose, and Representatives Susie Lee, Stephen Horsford, and Dina Titus. Northern Nevada volunteers also visited Rep. Mark Amodei in Reno.
Nevada's National Day of Rx Action
AARP Mississippi's drug price-fighting Rx. T. Rex met with Rep. Michael Guest's office in Brandon, M.S., and shared Stop Rx Greed petitions from constituents from the third Congressional District. Later on, Rx T. Rex trekked to the State Capitol, the House Gallery, and Smith Park.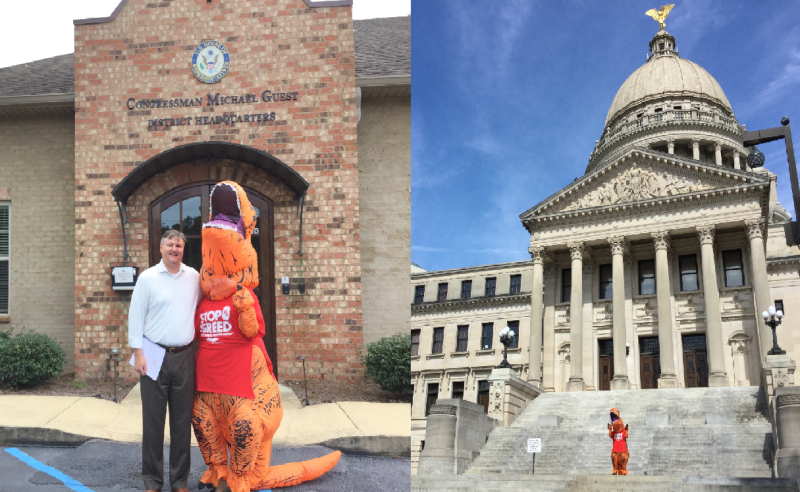 These Rx T. Rex actions are all part of AARP's Stop Rx Greed campaign to encourage lawmakers to take actions that lower drug prices. AARP supports four dino-mite principles for federal legislation to make the price of prescription drugs less terrifying: a cap on out-of-pocket costs for seniors, a crackdown on drug prices and price increases, an increase in competition, and greater transparency.

To learn more about AARP's Stop Rx Greed campaign and efforts to lower drug prices for older Americans and their families, visit www.aarp.org/rx.