Sign Off: Tips to Avoid Holiday Porch Predators
By Ashley Edokpayi , December 22, 2015 11:59 AM
AARP Fraud Watch Network warns holiday shoppers of package delivery theft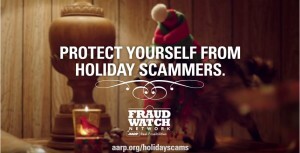 With the over-congestion of malls during the holiday season, many consumers take their shopping lists to the Web — after a quick search and a few clicks, your family's and friends' gifts are en route to your doorstep.
While this is an easy way to finish off your Christmas giving list, shoppers should be wary of package thieves.
Ways to save, expert investment advice, scam alerts and more! — AARP Money Newsletter »
An estimated 23 million Americans have had packages stolen from their homes before, according to a report from insuranceQuotes.com. This season, UPS estimates it will deliver a total of 630 million packages by New Year's, leaving countless consumers susceptible to theft.
In the latest AARP holiday scams survey, fraud experts reported that thieves troll neighborhoods during the holidays on the hunt for packages to steal from front porches. The survey found that 73 percent of respondents who've received packages within the last month were not required to sign for the delivery company, and only 21 percent had requested a signature be mandatory for all of their shipped items.
The survey also found that only 4 in 10 consumers know that package delivery companies are not liable for losses or theft. It is also not guaranteed that retailers will offer a refund or replace the item that was stolen.
"Make sure you get a signature release for your packages," says Jean Setzfand, senior vice president of programs at AARP. "There are a lot of thieves and fraudsters out there stealing packages right from your doorstep."
Get discounts on financial services from trusted companies — AARP Member Advantages »
To avoid getting your special gifts stolen this holiday, be sure to set up a required signature for all of your deliveries. You can also arrange the best delivery time if you prefer to be home when it arrives, or leave specific instructions for your package driver to knock or ring the doorbell. Also consider having the package shipped to your work address.
With these precautions you can avoid becoming a victim of package theft.
See more tips on holiday giving from AARP's Fraud Watch Network
Also of Interest

See the AARP home page for deals, savings tips, trivia and more.