A Call to Support Military Caregivers in the Workplace
By Media Relations, September 13, 2019 03:40 PM
On September 10, the Elizabeth Dole Foundation, AARP and the U.S. Chamber of Commerce Foundation's Hiring Our Heroes program convened industry leaders and human capital directors from some of the country's largest employers for the first-ever national employment summit for military caregivers.

An estimated 5.5 million Americans devote their lives to caring for a loved one who served. At an immense personal and financial cost, they provide $14 billion worth of voluntary care to their veterans each year. Experts consider them the single most important factor to the well-being and recovery of America's wounded warriors. Yet, serving as a military caregiver has become a barrier to employment and success in the workplace.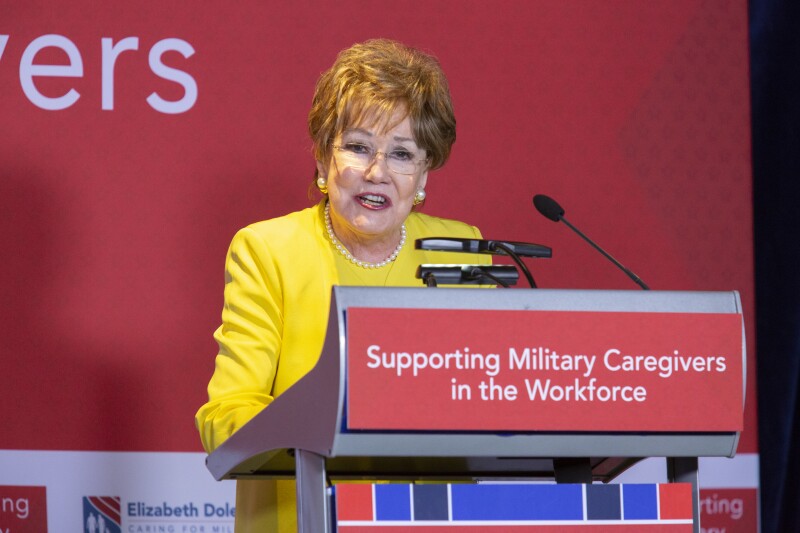 In opening remarks at the Summit, Senator Elizabeth Dole issued an urgent call to action to employers nationwide—step up and support America's hidden heroes. The Senator urged employers to recognize caregivers' unique talents and unmatched work ethic; invest in effective caregiver hiring and retention initiatives; and create a culture where caregivers can thrive in the workplace without sacrificing their veterans' care.

Opening the workforce to military caregivers will take creativity and accommodation. These hidden heroes have incredible demands on their time. Their schedules rarely conform to rigid 40-hour work weeks and last-minute emergencies frequently arise. However, the type of workplace culture, flexible schedules and telework policies that will keep caregivers in the workforce are achievable. In fact, many of these initiatives already exist in some form and just need to be implemented the right way.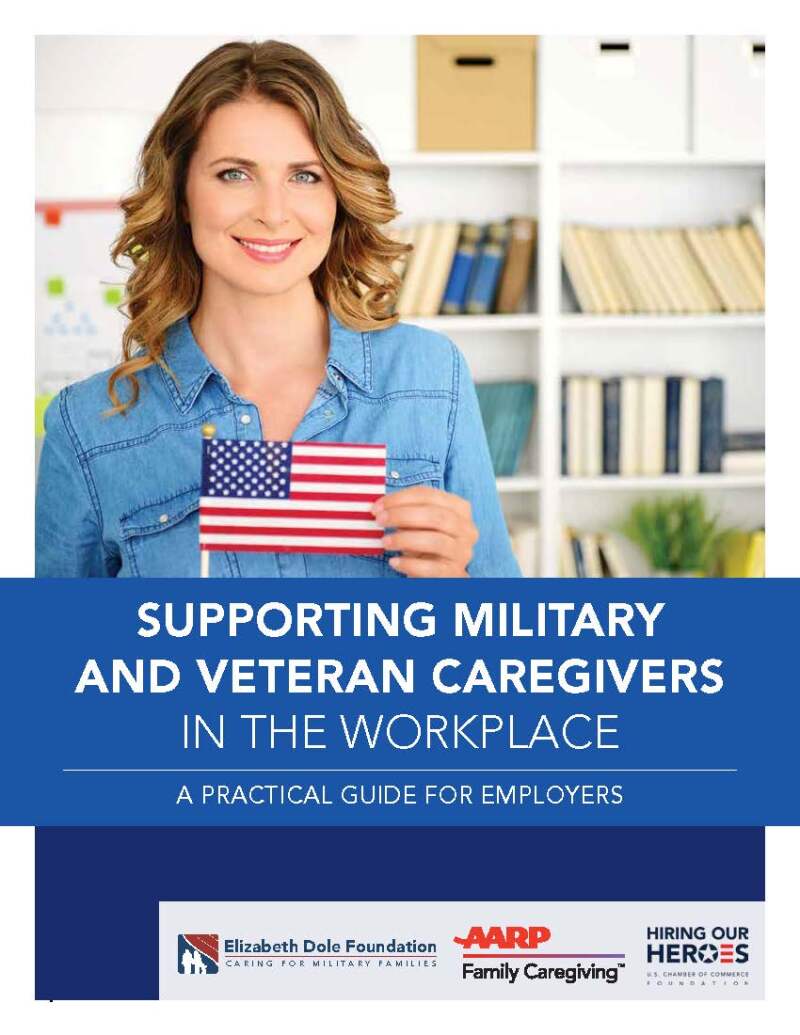 In the months leading to the Summit, our organizations convened a national taskforce of human capital experts to develop principles and policies employers can use to create caregiver-friendly hiring and workplace practices. Together, the taskforce members created a toolkit to guide employers in recruiting and retaining caregivers. The toolkit is free and available for download here.

Supporting Military and Veteran Caregivers in the Workplace: A Practical Guide for Employers

National employers speaking at the Summit testified to the policies and initiatives highlighted in the toolkit. A panel of senior leaders from Comcast NBCUniversal, Amazon and Hilton shared how their companies created caregiver-friendly cultures and measured a return on their investment. They also described hiring caregivers as both an act of corporate social responsibility and a smart business decision.

In his keynote address, Dr. Kevin Vigilante, Chief Medical Officer at Booz Allen Hamilton, affirmed Booz Allen's commitment to hiring and retaining caregivers, and described the wellness benefits caregivers receive from supportive employers, including reduced isolation and an elevated sense of self-worth. Dr. Vigilante also announced that Booz Allen would be doubling down on its commitment to employ military caregivers through a new Hiring Our Heroes initiative. This initiative, "The Military Caregiver Fellowship Program" will place qualified military caregivers in short-term fellowships with corporations to expand their professional network and demonstrate their value to the workforce. Corporations interested in participating can find additional information at https://www.hiringourheroes.org/fellowships/.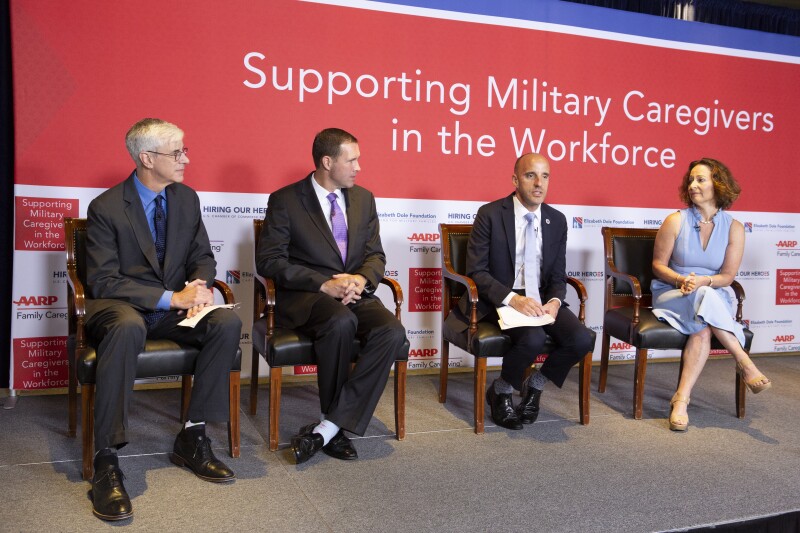 Few speakers illustrated the great need to attract, hire and retain military caregivers better than the panel of caregivers themselves. One panelist, Emery Popoloski, just established an impressive professional career when her husband Charlie began experiencing seizures and other traumatic brain injury symptoms following two deployments to Iraq.

When Emery thought Charlie was stable enough, she returned to the workforce to pay off the many bills not covered by Charlie's benefits. Emery knew she would have to take time off for Charlie's medical appointments, but she thought she could manage the work-caregiver balance. Unfortunately, she encountered workplace policies and a culture that constantly challenged her ability to provide care.

The Family Medical Leave Act did not apply to Emery until she reached 12 months with the company. Telework and flexible work schedules were offered, but only to those at the Vice President level. The attitudes of her managers constantly pressured her to prioritize work over her family. After she became pregnant with their second child, the strain of the job became so unmanageable, Emery began experiencing stress-induced contractions. She was forced to quit and find another way to pay their bills.

Hidden Heroes like Emery deserve—and depend on—opportunities to thrive professionally and pay for the uncovered costs of caring for someone who served our nation. We call on all employers to join our national movement. Workplaces of every size can strengthen our nation, our caregivers and America's workforce by opening their doors to this pool of selfless, hardworking and talented Americans.

By: Bob Stephen, AARP, Vice President for Family Caregiving; Steve Schwab, CEO, Elizabeth Dole Foundation; Eric Eversole, President, Hiring our Heroes.