5 Easy Tricks to Look Holiday Glam
I approach the holidays like a Golden Globes nominee — that is, with a can't-fail-to-look-good plan.

Do I employ a live-in stylist? Nope — just this low-stress, high-sizzle strategy. Pair it with your drink of choice and you are practically guaranteed to survive your every public appearance from now until New Year's Day!

1. Prep face, hair and hands overnight. Don't waste time or effort on what no one can see. (Spanx and a good bra should take care of that.) Instead, super-blast your skin and hair with moisture while you snooze. Bedtime masks, designed to be greaseless but deeply hydrating, use your (literal) downtime to reboot dry, damaged hair and parched, lined skin. Slather your hands in a thick layer of hand cream (or leftover night cream), then slip on a pair of clean cotton socks so your mitts don't mess the sheets. Try Pantene Pro-V Overnight Miracle Repair Serum, Clinique Moisture Surge Overnight Mask, L'Oréal Paris Revitalift Triple Power Intensive Overnight Mask or Alterna Caviar Anti-Aging Overnight Rescue.

>> Celebrity Milestone Birthdays in Decemeber

2. Dress up from the waist up. Across a dinner table or at a cocktail party or brunch, people — th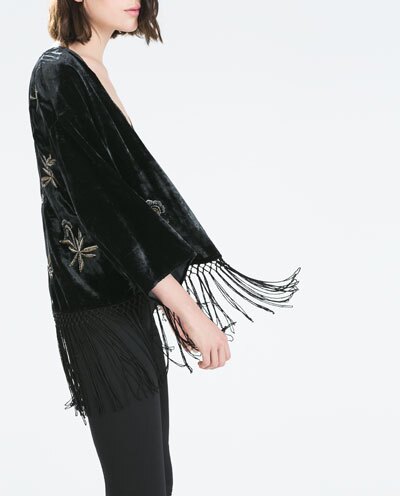 e polite ones, anyway — aren't looking below your belt. Seasonal face time likewise means no one's examining your derriere, your tummy or those expensive but useless shoes. So start with a velvet jacket (blazer or soft cardigan style, as here) or a tailored tuxedo jacket. Then add your best jeans — or whatever black leather pencil skirt or black pants may be lurking in your closet. The combo of casual and dressy is a can't-miss these days. Try a Zara's fringed embroidered velvet kimono, Chadwicks of Boston velveteen blazer by JG Hook or H&M tuxedo jacket.

3. Life-hack your hair. No need to ring in the season with a salon blowout or a complete redo. Simply move your part, add hot rollers for volume, mist roots with dry shampoo to refresh bed head or second-day hair, add faux bangs or pull everything back in a chic, sleek ponytail. You can even embellish the band with some metallic ribbon left over from wrapping packages.

4. Pair pink lips and nails. This is a quick move — and one that reliably says "glam." A rich pink on the rosy side is a newer and more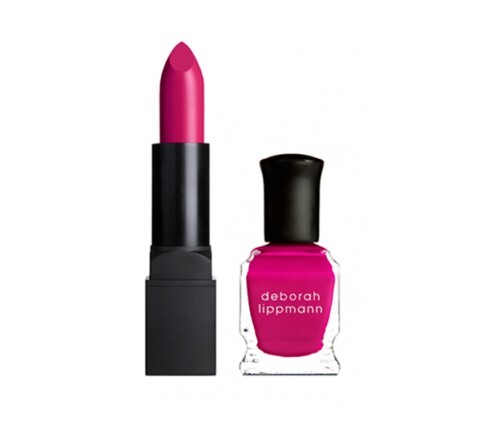 youthful color than red, but it is always classy — even with just a swipe of BB cream and mascara. It can be trendier, too (in an Audrey Hepburn way), with a swoop of eyeliner and defined brows. Match the hue of your nails to your lips — sophistication simplified! Try Deborah Lippmann's Sexy Back Lip & Nai l Duet, Nars "Laced With Edge-Modern Future" Roman Holiday Lip, Cheek & Nail Set or Evelyn Lauder and Elizabeth Hurley Dream Pink Collection.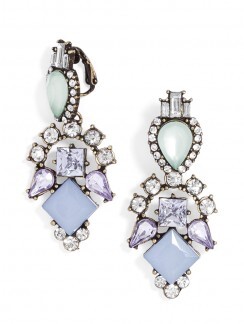 5. Let your face sparkle. 'Tis not the season for delicate studs or a feminine locket. Rather, a pair of chunky crystal earrings (or a statement necklace with oversize baguettes) will make anything you wear look opulent. (Both adornments also light up your face, reflecting the gleam in your eyes.) Earrings should be clip-ons in order not to drag on lobes or piercings, while a choker should be worn high at your collarbones, where it will have maximum effect. Try BaubleBar Geo Aztec Drops, Chroma Cushions Necklace or a stone bib necklace by Cara.

>> Get travel discounts with your AARP Member Advantages.

For more beauty and style tips for women 50 and up, check out my Wardrobe Wakeup: Your Guide to Looking Fabulous at Any Age.


Photos: zara.com/usa; deborahlippmann.com; baublebar.com.













Also of Interest



See the AARP home page for deals, savings tips, trivia and more