5 Secrets of a 50+ Beauty Industry Executive
Andrea Q. Robinson is a beauty industry legend and one of my mentors. She revolutionized makeup by creating The Nakeds by Ultima II for Revlon back in the '80s. Until then "neutrals" didn't exist (not even Bobbi Brown!). In her new memoir Toss The Gloss-Beauty Tips, Tricks & Truths For Women 50+ ($17.67,amazon.com), Andrea, a former Vogue beauty editor who has also been president of Ralph Lauren Beauty, president of Tom Ford Beauty and chief marketing officer at Estee Lauder (see photo below) reveals her insider know-how: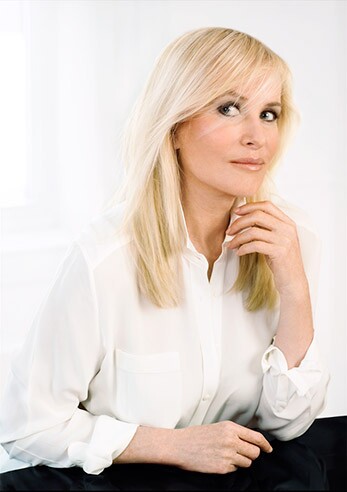 GOLD FOUNDATION DE-AGES MENOPAUSAL SKIN. Go more golden and a shade or two darker in foundation instead of a pink or perfect skin match. You'll look healthier, banish gray pallor and neutralize any redness. Shop with a clean face and test shades on your jawline. Bring along wipes and a purse-size magnifying mirror to check the color in natural light.
>> Sign up for the AARP Health Newsletter
BUY MAKEUP FOR MAKEUP, SKIN CARE FOR TREATMENT. Avoid powder foundations and anything labeled anti-acne, balancing, clarifying, long-wearing, matte, oil-free or self-adjusting. These are not for post-M faces. Skip wishy-washy anti-aging wording that promises lifting or firming. Look for words like moisturizing, luminizing, dewy, radiance, sheer and brightening. Treatment is for skin care, not makeup, with the exception of SPF and hyaluronic acid. So with makeup, concentrate on color, desired coverage and texture.
BEIGE TO BROWN FOR DARK EYES, GRAY TO BLACK FOR LIGHT EYES. Forget plums, greens and blues forever. Dark neutrals combined with lighter ones are the most forgiving and youthful choices for lids. Many big cosmetic companies (expensive and drugstore) use the same key vendors to produce powder eye shadows and then simply label them as their own. All are finely milled and pressed, so check the drugstore before you drop a bundle at Sephora, Nordstrom or other high-end retailers. Skip liquid liners, too. Soft pencils that can be smudged change the shape of your eyes fast.
BLEND CREAM BLUSH INTO YOUR FOUNDATION. Blend a creamy blush onto your "apples" (that sweet spot on your cheeks when you smile) before your foundation or tinted moisturizer completely dries. This gives a natural look - unlike powder blush, which just sits in lines. FYI: Cosmetic companies do reviews of best-selling blush shades from their competitors (high and low) and incorporate them into their own lineup. You're as likely to find the same shades at Maybelline and L'Oreal that you'd find at higher-end brands like Lancome.

>> Get entertainment and dining discounts with your AARP Member Advantages.
CREAMY NEUTRAL LIPSTICK - NOT GLOSS - IS SEXY! At this time of life, you have a lot to say so why not call attention to your mouth. Reshape your lips to their younger proportions. If yours have thinned and lost definition, check old photos of yourself. Imitate the natural line. Pencil just outside the natural border with a nude liner that's close to your natural lip color. Keep it sharp, thin and light. Then fill in your lips with the liner before applying a neutral lipstick that complements your skin tone. Start in the middle of your lips to avoid color clumping at the corners. Nude pinks, caramel,and mocha shades look youthful. Test lip color in the store (on your fingertips, not your hand) to find one that's closest to your natural lip shade. No glosses or dark or red lipsticks. They emphasize upper lip lines, bleed and look obvious. No mattes or frosts either. They make you look old and cheap.
For more beauty and style tips for women 50 +, check The Wardrobe Wakeup, Your Guide to Looking Fabulous at Any Age by Lois Joy Johnson ($14.55, amazon.com).
Photo: Simon Perry
Also of Interest

See the AARP home page for deals, savings tips, trivia and more