5 Tired Trends Finally Bid 'Buh-bye!'
I love being an "early adopter" of new style and beauty trends. For the novelty, sure, but mainly for the utility: It makes me feel useful when I get a chance to weed out the nonstarters for my posse of age-50+ girlfriends — and that includes you!

But let's be clear: I'm not all that cool, and I don't fall in love with the newest vogue simply because some PR person urges it on me or because the media maven du jour insists I should embrace it.

Right now, for example, everyone seems breathless about the iPhone 6, floral and lace dresses, and butt-building squats and lunges.

Precisely none of those things tempt me one bit.

The good news? Some old trends are on their way out of town, and in each case a new (and dare I say better?) one promises to fill the gap perfectly. So before you can say "Twenty-fifteen," here are five things to let go of — and five more to glom on to.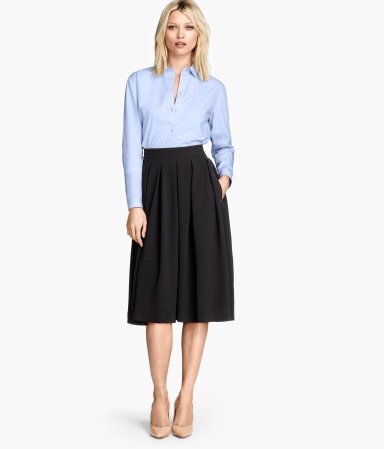 1. Black leggings, begone! Wearing leggings rather than pants is slinking away fast. Yes, leggings were easy to wear — and when you paired them with a pair of knee-high boots and a big, cozy sweater, they provided a dream excuse for ignoring weight gain, dry cleaning or the bothersome need to actually get dressed. Comfy though they were, I'm not sad to see them go; they revealed every bump, binge and bulge.

Try this instead: Grab a new knee-length flared skirt. It's flattering (defining your waist while camouflaging everything else), feminine and flexible: A chic flared skirt can work with shirts, tees, sweaters or flats. Try, for starters, H&M Textured-Weave Skirt (above) or Asos Vila A-Line Skirt.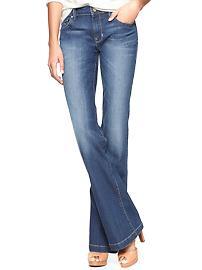 2. Ditch "destroyed" jeans. You know the ones I'm talking about, right? They "featured" so many rips and tears that huge chunks of thigh and knee showed through. This style always made me think a colony of moths must have ransacked the wearer's closet.

What really bothered me, though, was the tone deafness involved: At a time in our nation's history when so many disadvantaged people have no other choice but to wear tattered clothing, "destroyed" jeans always struck me as not just bad fashion but also poor taste.

Try this instead: Update to the new higher-rise "baby flare" jeans; this streamlined twist on an old favorite can be attractively paired with wedges. Check out, for example, Gap 1969 Long & Lean Jeans (above) or American Eagle Hi-Rise Artist Jeans.

>> Get travel discounts with your AARP Member Advantages.

3. Forsake straight hair. Everyone pretended to like this beauty trend; secretly, they loathed it. Unless you're Jennifer Aniston, achieving straight hair takes a lot of work: The hot flatiron and the tension of straightening damaged our locks for decades, while the cost of salon keratin treatments ravaged our checkbooks.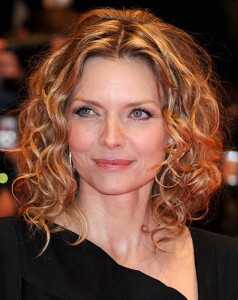 Try this instead: Opt for textured hair and beachy waves. This trendy look is much healthier than straightening, and all you need to give bobs or long hair a fresh twist is a little air-drying and some salt spray. Everyone from Demi Moore to Michelle Pfeiffer (right) has caught the wave. If you want to as well, try, for instance, OGX Moroccan Sea Salt Spray or Drybar Mai Tai Spritzer Sea Surf Spray.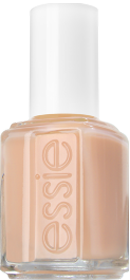 4. Just say no to nail art. Who even had the time for this weird and often ugly trend? It's not like your hands were going on display at the Museum of Metropolitan Art! And if even a tiny chip in solid navy blue could send most of us into a panic, imagine what a multicolored pattern with glitter could do!

Try this instead: Bare nude nails are back. Why? They're low maintenance — and long overdue! Try something like Essie Sandy Beach (left) or Nails Inc NailKale in Mayfair Lane.

5. Kill the cat eyeliner. It ain't easy doing flicked-up liner on eyes that sag or droop. Hmm…could that be why most of us simply abandoned this trend?

Try this instead: Latch on to the new craze for fuller eyebrows. (Most of ours need help anyway!) Use a powder or pencil to fill and extend missing tails, thin or tadpole-shaped brows. The goal is to frame and "power up" your eyes again. Options for accomplishing this include Tarte Amazonian Clay Volumizing Brow & Hair Powder or NYX Cosmetics Eyebrow Cake Powder.

For more beauty and style tips aimed at the 50+ posse, check out my Wardrobe Wakeup: Your Guide to Looking Fabulous at Any Age.

Photos: hm.com, gap.com, Getty Images, essie.com.

Also of Interest



See the AARP home page for deals, savings tips, trivia and more