Eyebrow Rehab: 3 Tricks for Women 50+
Good eyebrows - lush and extended - are usually made, not born, at 50. They do for your aging face what a blazer does for your body, adding structure and definition. Unfortunately, too many of us got a little tweezer crazy back in the day; others are dealing with skimpy, misshapen or balding brows due to thyroid or hormonal changes. And brows do change with age. Even Brooke Shields, who is famous for her full brows, now has shapelier, more groomed ones.
Long bangs are great camouflage for brows that need work. But beauty guru Ramy Rafni, who has groomed the brows of Halle Berry, Lauren Hutton and Lynda Carter, to name a few, has other ideas. Here are his secrets (plus a few of my own):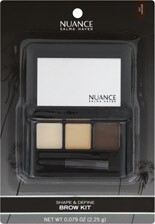 GO BACK TO SQUARE ONE. To restore over-tweezed, over-waxed brows, you need a tough-love grow-in period of three months. Ramy says: "No plucking at all, even hairs you think are not part of your brows, especially at the inner corners. Take a good multivitamin plus biotin and zinc, and use a moisturizing protein serum designed to encourage hair growth." Try: Rapidlash Eyelash & Eyebrow Enhancing Serum ($30.49, drugstore.com), Ramy Eye Grow Brows! ($25, ramy.com).
RESHAPE AND FILL. You can correct comma- and tadpole-shaped brows by straightening and extending the line of the brows. "Removing hairs from the curved underside at the beginning of the brow near the nose is the best way to start," Ramy says. "Initially, your brow may appear thinner due to this change in shape, but brow makeup will compensate. You want to make a curved arch more angular at the peak, and stretched out as well, to elongate the shape." Brows missing their outer half require products that adhere to bare skin. Use a wax-based pencil, powder or brow marker pen.
Ramy says to fill the entire brow, not just the missing half, for a uniform look. Then set the entire brow with a translucent powder for a realistic look. "Always go lighter than your brow color (it lifts the eyes) - and when in doubt, buy taupe, which works for all hair colors." FYI: Taupe is often labeled "Blonde" or "Dark/Medium Blonde. Try: Nuance Salma Hayek Shape & Define Brow Kit ($9.99, cvs.com), NYX EyeBrow Cake Powder ($5.99,cvs.com - see photo), Maybelline Eye Studio Master Shape Brow Pencil, Blonde 250 ($8.29,cvs.com).
>> Get entertainment and dining discounts with your AARP Member Advantages.
TRIM AND GEL UP. Trim long hairs with a small, straight scissor. Ramy says: "Be conservative. You can always snip more. Brush them up and trim, then brush them down and trim. Use a clear brow gel to hold wiry hairs in place or a tinted brow gel to tint gray ones and hold them." Try: Ramy When Hairy Met Sealy...! ($20, ramy.com), Anastasia Beverly Hills Tinted Brow Gel ($22, sephora.com). Be patient. Brow restoration is a process. But as with diet, exercise and good skin care, you will ultimately get results.
For more beauty and style tips for women 50-plus, check out The Wardrobe Wakeup, Your Guide to Looking Fabulous at Any Age, by Lois Joy Johnson ($15.99, amazon.com).
Photo: CVS.com
Also of Interest

See the AARP home page for deals, savings tips, trivia and more