Going Gray the Right Way
By Jen Reeves , March 12, 2015 07:35 AM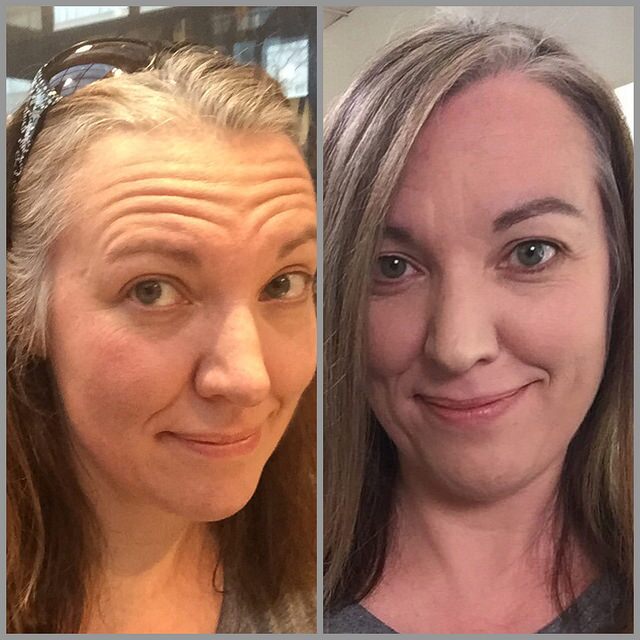 I was tired of the cycle: Color my hair, and one week later, there were already the little bits of white popping up at my scalp. By week three, I was in dire need of a touch-up to maintain my once-natural brown locks.
This every-three-week ritual was really getting to me. Coloring my hair was stressful. And expensive. And a total pain. So I decided it was time to surrender to nature — and go gray.
It seems that I'm in good company. More and more Hollywood celebs are sporting platinum stripes, and I'm hearing a lot about how silver is the new cool. Maybe it really is glamorous. But did I have the nerve?
At first, I wasn't sure, but decided to jump into it when my boss offered me the opportunity to document my hair-color transition for a video for AARP's "The Best of Everything" YouTube series. She reassured me that I'd be working with a pro who would teach me the best way to go gray.
So I quit coloring my hair for a full three months. By now I had a very defined line between my natural gray colors and my helped-by-dye brown. I bravely went to my first appointment, fully expecting to come home looking like Meryl Streep in The Devil Wears Prada. But during my initial consultation, Katy Ghirardo from Cristophe Salon in Washington, D.C., told me going all-platinum will put me in a similar root situation to the one I was trying to avoid. If I want to end the nonstop cycle of hair dye, I would need to color my hair the same shade as my roots. That means a combination of highlights and lowlights to battle out my distinct color line. Suffice it to say, this was not an easy process.
Get health and wellness discounts with your AARP Member Advantages. »
Katy first treated my hair with conditioners to help even out my hair texture and make sure it was ready to handle my transition. Then came the very detailed process of coloring. The effort took a couple of hours of various dyes and rinses to get all of my hair to gently blend into my natural roots. But it was worth it: I now have bright platinum framing my face, but other parts of my hair are a mix of light and dark gray. The very back of has not changed very much from my natural dark brown.
I'm excited to experience a life where I'm not covering up the division between gray and dye with a headband. I am looking forward to being the authentic me. If things go well, I'll be able to focus on keeping my hair texture healthy but not worry about color for another six months. I'm already less stressed. I don't have to hide. I'm ready to live openly with my grays!
Also of Interest

See the AARP home page for deals, savings tips, trivia and more