Dress trends have come and gone over the years.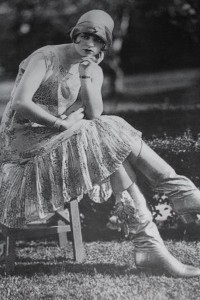 The Roaring Twenties were epitomized by the rise of Coco Chanel and the flapper look — short hair and short, shapeless shift dresses.

During the late 1930s and early '40s, the glamour of Hollywood prevailed — until, of course, World War II broke out, making couture seem inconsequential. More structured dresses — inspired by military uniforms and fitting the mood of the times — then began to be worn with pride.

By the time the '50s rolled around, American women were overdue for a little frivolity. They found it in the cinched-waist, full-skirted, figure-flattering dresses introduced by Christian Dior. Chanel, meanwhile, countered with the straight skirt and boxy jacket favored most famously by Jacqueline Kennedy.

Since then, every passing year — indeed, every turn of the season — has seen the introduction of the latest "perfect dress." Often simply a recycled look from earlier years, all strive to be the right dress for every woman: flattering yet accessible, no matter how big or small your purse or waist.

>> Get travel discounts with your AARP Member Advantages.

But what truly distinguishes a dress as "perfect"?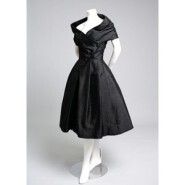 "It's one that accentuates your assets, flatters your body shape and makes you feel really pretty," says Jacqui Stafford, author of The Wow Factor: Insider Style Secrets for Every Body and Every Budget. "And forget about the dress size listed on the tag — that number means nothing. All that matters is wearing what fits your body shape. A fabulous dress gives you the confidence to get out there and rule the world!"

Might there be a "magic dress" — one that flatters every woman's frame, regardless of size, shape or age?

Believe it or not, there is — and not just one but three. Before describing them, let me also mention three guidelines for wearing them:

1. Keep the dress knee-length or slightly above.
2. Minimize frills.
3. Aim for fabrics that include a bit of Lycra for extra comfort and "give."

Wrap dress. Diane von Furstenberg hit the nail on the head in 1976 when she introduced the world to what many believe is the ultimate perfect dress: the wrap. Many designers have copied her styles since then, but the DVF original remains the archetype of a chic and knowing style. Look for long- or 3/4-length sleeves. Knot the belt on the side, not in front — and never tie it in a bow.
Fit-and-flare. These über-flattering dresses — they're simply modified and modernized versions of those postwar Dior dresses — are fitted on top and flare out slightly starting at the waist, creating a flirty, swingy look.

For the best look, choose 3/4-length sleeves. Or if you want to go with a sleeveless number, pair it with a short, snugly fitting cardigan or a cool jean or leather jacket, like my fave at right. Be forewarned, though: If the cardigan or jacket is too long, it will flare out along with the skirt, adding a good — I mean bad! — 10 pounds to your frame.
Sleeveless sheath dress. This universally flattering silhouette is perfect for almost any occasion. Pair it with a top as described above, or do your push-ups and go bare-armed! The key to wearing these successfully? Make sure they stretch a bit to fit your shape to a T.


For any dress to be truly "perfect," of course, it must also be practical. For me, that means something I can wear for at least three seasons, and preferably four. Recently I managed to pull together one of my favorite dresses — a simple gray Helmut Lang shift dress — with various accessories that enabled me to wear it all year long. Perfection — or darn near it!

Until next time, remember: We can't control getting older, but we can decide how we do it.






Photos: Grace Meihaus, Polyvore, AARP

A lso of Interest



See the AARP home page for deals, savings tips, trivia and more.