Louis Vuitton's 83 Year Old 'IT' girl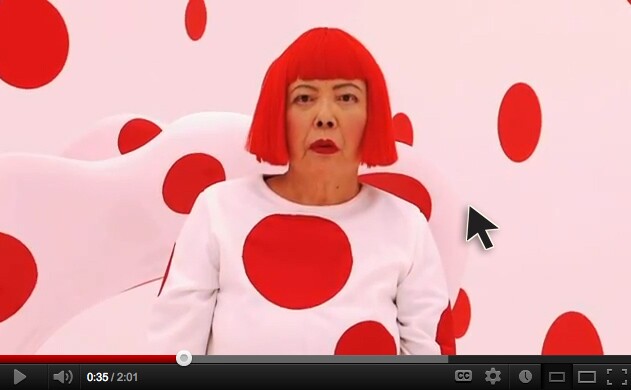 I'm obsessed with Japanese contemporary artist Yayoi Kusama for lots of reasons but one sentence can sum it up: She's inspiring. Kusama, 83, has chosen to live in Japan's Seiwa Hospital for the Mentally Ill for about 30 years for multiple issues, and has still created art that is in worldwide demand. She is best known as an avant-garde, pop art purveyor of repetition and patterns (see video,to the right). But she also shines as an abstract artist, providing a minimalist perspective that has been recognized and acknowledged by the art community. Not only is that inspiring to me, but it's a testament that you can and continue to be successful at any age.

Kusama's latest project is her recent collaboration with luxury fashion brand Louis Vuitton, which includes includes apparel, accessories, window displays, iPhone apps, a web site and a book. No stranger to the industry, The Kusama Fashion Company, a brand the artist started in 1968, sold eccentric dresses and textiles through out New York, even landing a boutique in Bloomingdale's. So it was no surprise that Marc Jacobs, Louis Vuitton's creative director, met with Kusama in 2006 to pitch the idea of working together. The collaboration has turned out a quirky yet refined polka-dotted line of apparel and accessories. "It's a wonderful thing the way contemporary art, sort of permeates its environment, and changes" says Jacobs in the Louis Vuitton website video. "And for many people who don't look at art or go to galleries... there will be a new venue, a new place to see this work, and to come to appreciate it through the eyes of Louis Vuitton."

The Louis Vuitton and Yayoi Kusama Collection is on sale now through the fall. Prices start around $300 and can be purchased globally in 463 Louis Vuitton stores and online. While you may find the line expensive, perhaps you'd be interested in a more affordable option for viewing Kusama's work-a museum. Louis Vuitton is also sponsoring the Yayoi Kusama retrospective now at the Whitney Museum of American Art in New York. The six-decade span of her work will be on display until Sept. 30.

Feel Great. Have Fun. Be Stylish. What do you think of this collaboration? Do you view Kusama's work as art, wearable art or fashion? Let us know by leaving a comment in the box below. Also follow Dian on Twitter.