Plastic Surgery? Says Who?!
On my favorite show, The Good Wife, Judge Patrice Lessner — played by Saturday Night Live alum Ana Gasteyer — tends to rule against any attorney who fails to add "in my opinion" after making a point in her courtroom. It's a handy phrase to keep in mind for anyone tempted to judge a celebrity for work she may or may not have had done on her face.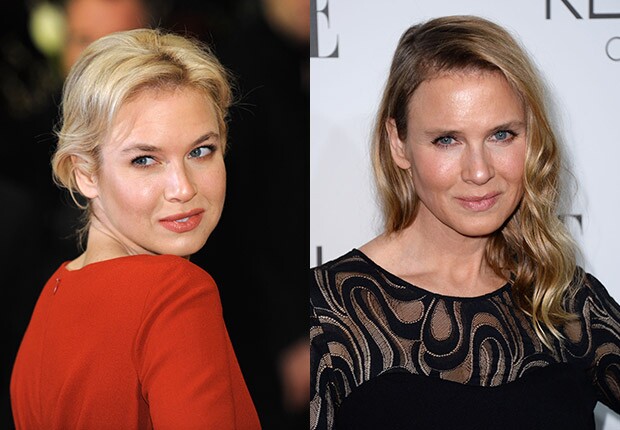 In the wake of last week's brouhaha over Renee Zellweger's new look, which some called "unrecognizable," I asked New York City plastic surgeon Konstantin Vasyukevich to weigh in on women age 50-plus seeking "assistance." His points — in his opinion, of course! — appear below:
Celebs always credit "diet and exercise," never surgery. If the surgeon has done his job, no one should be able to tell you've had a face-lift or eye lift. The same goes for fillers and Botox: The goal of any facial rejuvenation procedure is to improve someone's looks, not change them.
>> Ageless Celebs — No Way They're 70-Plus!
Five ways to spot bad "work." In general, overdoing it is the giveaway. But there are specific clues as well:
1. Frozen face. Administered too often or too strong, Botox injections leave your face lacking the ability to express emotion. Brows that are too elevated or overarched at 50 often indicate misplaced Botox. Though neurotoxins such as Botox should last three to four months, there's a window of time when muscle activity begins to return. Hold off on getting repeat injections too early in the game.
2. Chipmunk cheeks. Done correctly, filler can add natural-looking volume to saggy cheeks; it should last one to two years. When overdone, by contrast, the result is often big, puffy cheeks that look unnaturally high on the face.
3. Duck lips. Overinflated lips lose their natural shape; the swelling also gives the face a distorted look. To avoid this if you decide to have "work done," check the side view as your doctor works; filler can sometimes look fine straight on, but extreme in profile.
4. Wind-tunnel face. A face that's been pulled too taut, resulting in a distorted hairline and ear placement, signals an "old" facelift. More modern surgical techniques can give a much more natural look.
5. Changed eye shape. Less is often more here. Too much cutting alters your eyelids and the shape of your eyes in a drastic way.
Who looks suspiciously good? Meryl Streep, 65, and Julianne Moore, 53, seem to be good examples of not caving in to "plastic-surgery pressure." Sure, it's possible to have a clean jaw and a smooth neck after 50 or 60, but it's not common. Some stars (I'm thinking Vanessa Williams, 51, and Julia Louis-Dreyfus, 53) appear to get away with a little Botox to smooth forehead wrinkles.
Jane Fonda has confessed to "looking great at 76, thanks to multiple cosmetic procedures over the years." My guess is she's had more than one face-lift — and that she has a well-thought-out strategy of nonsurgical procedures for maintenance.
Helen Mirren appears to have had a successful recent face-lift. At 69, she now has a smooth jawline and a beautiful neck (and those lines around the eyes can easily be resolved with Botox).
>> Get travel discounts with your AARP Member Advantages.
Sigourney Weaver looks great at 65; I believe she had good work done. Only from certain angles does she look her age.
Finally, I believe that Renee Zellweger, 45, had her eyes done and got a facelift in ways that were less than optimal. Good work should leave you looking rested, not unrecognizable.
For more beauty and style tips for women age 50 and up, check out my Wardrobe Wakeup: Revitalizing Your Look at Any Age.
Photos: Jorg Carstensen/AP Photo; Jordan Strauss/AP Photo
Also of Interest

See the AARP home page for deals, savings tips, trivia and more