Ready-Made Readers Boost Vision and Looks
By Lois Joy Johnson , September 19, 2013 04:26 PM
Squinting at menus? Can't make out the shade name on your lipstick? Welcome to the presbyopia club. Presbyopia is an age-related vision problem caused by the thickening and loss of flexibility in the lens of your eye that's common among women 50+. It's why finding the right distance to hold the morning paper can be difficult. And while prescription eyeglasses, of course, correct nearsightedness, farsightedness and astigmatism, ready-made readers that come in a range of magnifications are ideal to whip out for quick reads. But don't just grab a pair from the drugstore rack. Add instant style with a pair of leopard cat-eye readers or sexy black frames. Here are a few tips for finding the best ones and getting the most use out of them: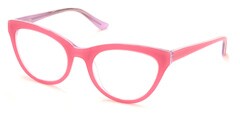 SHOP ONLINE SPECIALTY SITES. Eyebobs, A.J. Morgan Eyewear , and Readers.com focus only on ready-made readers. They offer indoor and outdoor styles - classic chic to super-trendy - that you aren't likely to find in stores. Some sites, such as Readingglasses.com and Readers.com, have organized their ready-made readers by shape, brand, face shape, color, magnification and price to make selection faster (and have free shipping and returns). Magnification is available from 1.00 to 3.00 or 4.00, but stronger is not necessarily better. You could try on drugstore frames as a guideline.
CHOOSE FRAMES THAT DE-AGE. Full, round faces and saggy, undefined jawlines benefit from the structure of angular frames. These have a androgynous, studious look that can be surprisingly sexy. Squared glasses with slightly rounded bottom edges can soften deep "angry" expression lines etched into mature faces for a more youthful and upbeat look. Try Eyebobs Geek Girl ($75, eyebobs.com). Large cat-eye shapes give tired faces and droopy eyes an instant lift. Check out A.J. Morgan's Ruffle ($42, ajmorgan.com). Sharp black frames always look contemporary and provide an edge - an alternative to wearing leather! Try Readers.com's The Madden ($13.56, readers.com).
BUY MORE THAN ONE PAIR OF YOUR IDEAL FRAME, BUT HAVE FUN. Once you nail your best shape, just vary the color and material. For a feminine twist on angular glasses, you might buy the same frame in a translucent plastic or bi-color pastel with contrasting dark temple bars. The one big "don't": Stay away from narrow horizontal shapes and half-glasses. They slip to perch on the end of your nose and scream "old lady," even in leopard or trendy orange.
ALWAYS HAVE A PAIR HANDY. Stash a pair in your car (not for driving, please!), desk (though you won't want to wear them for hours of computer work), everyday bag, evening clutch and in the kitchen (so you can read labels and recipes).
ENHANCE YOUR READER'S FLATTERY. Statement glasses focus attention on your eyes so why stop there? The FDA has just approved Botox by Allergan as an effective solution for crow's feet! You can erase years of squint lines in one office visit, making those eyes look even more ageless when you do slip off your readers.
For more beauty & style tips read my book The Wardrobe Wakeup, Your Guide to Looking Fabulous at Any Age by Lois Joy Johnson ($15.79, amazon.com).
Credit: A.J. Morgan Eyewear
Also of Interest

See the AARP home page for deals, savings tips, trivia and more