This 90-Year-Old Found His Inner Kid (Again) and Why You Should, Too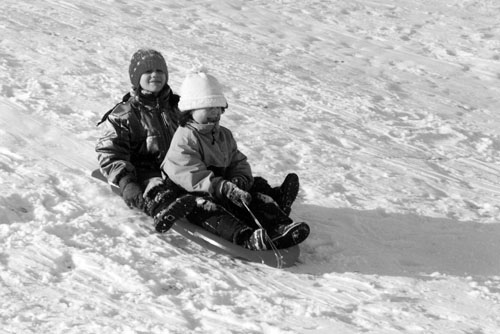 No matter how old and wise we get, sometimes we keep making the same mistakes ... over and over again.

One of them, which can have a huge impact on how we experience life, is this: ignoring your inner kid.

In an article for AARP not long ago, I suggested:

Don't take yourself, or the world, too seriously. There will always be problems, but do we have to constantly dwell on them? Smile, play, laugh, have fun, engage, connect. These are all essential for healthy aging. Do you remember how much fun it was when you were a kid to just get outside and run around? Studies have shown that physical activity, in addition to all the physical benefits, raises endorphins and makes you feel good and a whole lot happier. Play games, engage in a hobby, stay in close touch with friends who care about you, and steer clear of those who don't. Oh, and did I mention that you should try to say "Yay!" as often as possible?

Well, a Facebook friend contacted me recently to relay a story about how her 90 year-old father seemingly took the advice and did something he hadn't done in well over 40 years.

My friend's sister got a call from the activities director at the nursing home where their father lives, asking for permission to take their dad sledding the next day. The area doesn't get a lot of snow normally, so the people at the facility wanted to take advantage of it.

Not sure if it was the best idea - after all, her dad is 90 - she hesitated, and said she needed a little bit of time to think about it. The director had explained that a staff member would sit on a two-person sled with each resident, and after the sled ride down the hill, each would be escorted into a warm bus, idling nearby.

She called back, saying yes, with one caveat: that she would be the one going down the hill on the sled with her dad (she was finding her inner kid, too!). Here's how it all unfolded, in Mary's own words:

"I made a few calls to friends with smaller children and was able to borrow a few plastic sleds. I also bagged several sets of gloves, hats, scarves and even spare coats thinking nursing home residents may not have much in the way of outdoor clothing. I also called my mother, who is 91 and lives nearby in an independent senior residence, and invited her to join us. We arrived just after lunch, my arms filled with extra clothing and the sleds.
The director told me that six residents were "game" to go sledding, including my dad. After getting my dad and the other residents all bundled up and ready for their big adventure, I took one of the sleds to do a "dry run" with one of the attendants. It was a speedy ride to the bottom, where there were also 2 large trees about 15-20 yards apart. We ended up very close to one of them on our test run! But that didn't deter us.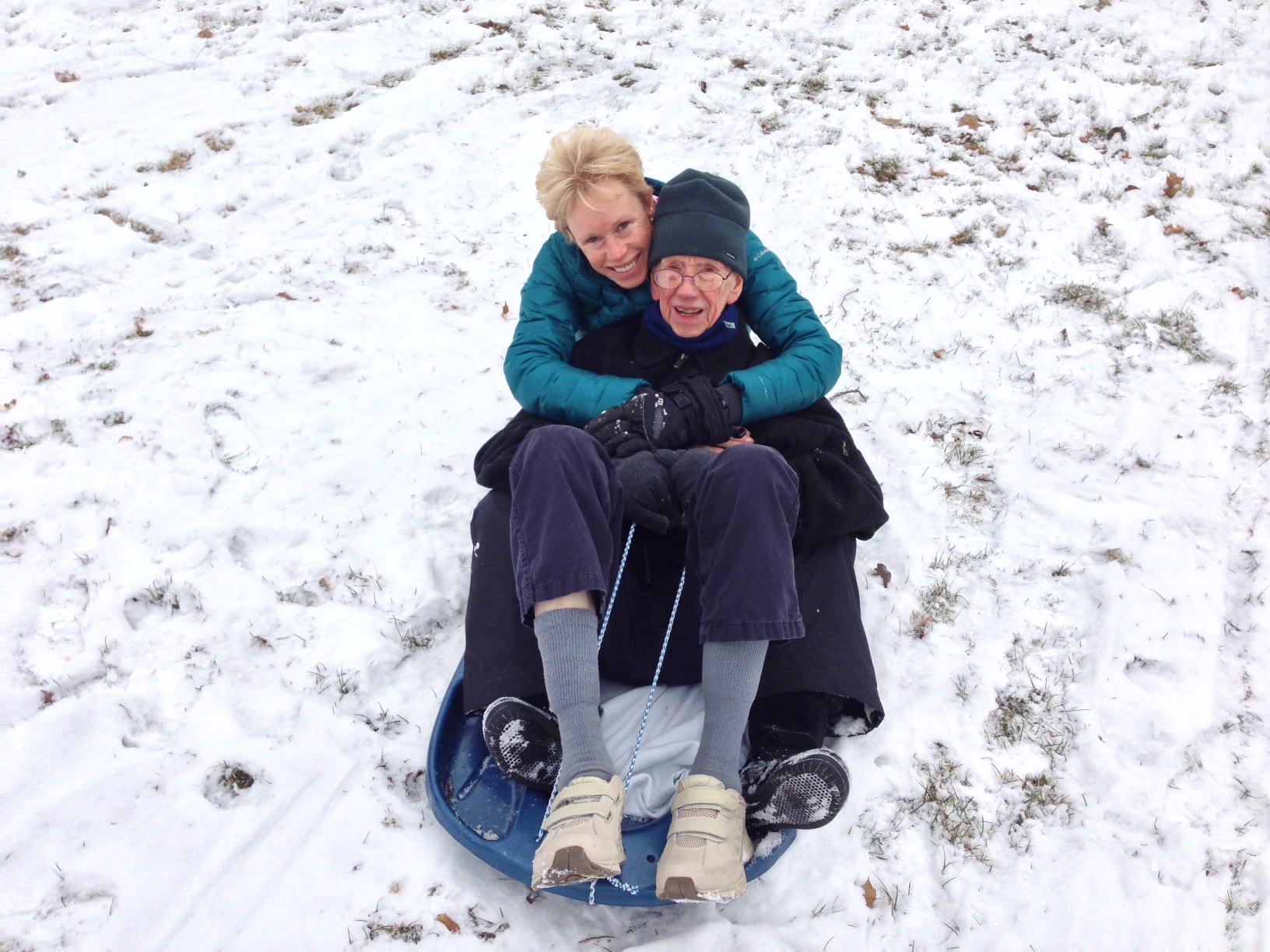 We walked back up the hill and out came Dad, the first of the six brave residents. The aides lowered Dad from his wheelchair to the sled, covering his legs with a blanket and I climbed on. Mom was watching nearby, seated and well bundled up. Dad and I edged to the crest of the hill. Laughing, I said, "Dad, if we head toward one of those trees, we'll have to abandon ship!" which made my dad smiler even wider. With a push from an aide we were off, fortunately headed between the trees. It was a fast ride to the bottom and absolutely exhilarating! The director, who was waiting at the bottom with the camera (that's Dad and me in the photo, above, after our speedy run down the hill), said he had a mile-wide smile on his face the entire time.
Two aides helped Dad into the warm bus where he sat and watched the next five residents sled down the hill, one by one, each enjoying it even more than the last. Turns out that Dad was the youngest in the group and two were 99 years old! The expressions on the faces of them all were priceless: wide-eyed, laughing and simply enjoying every moment of the experience."
Thanks to a loving family and an eldercare facility that truly cares about its residents, Tim Prigge found his inner kid all over again, inspiring his daughter to make sure she never loses hers.
I'm the National Osteoporosis Foundation 'Ambassador for Bone Health' and a fierce champion of positive aging. For more tips on living your best life after 50 (or 60, or 70...) check out "The Best of Everything After 50: The Experts' Guide to Style, Sex, Health, Money and More" and www.bestofeverythingafter50.com. Keep me posted on how you're doing by subscribing to me on Facebook and "tweeting" me on Twitter at @BGrufferman.



Photo credits: deconstructingthegirl.com, Personal photo of Tim Prigge and Mary Vanderloo used with permission