Wear a 1970s Look — at 50
What makes us orgasmically nostalgic — or is it nostalgically orgasmic? — whenever an oldie but goodie pops up as a "new" trend?

This whole 1970s bohemian thing, for example: It gets my bateau bobbing because I'm still 35 — and holding! — in the fashion part of my brain. Are you concerned that a '70s look might not be "age-appropriate" for you? Well, get over it, sez I, and then get on board: Staying relevant and looking contemporary may require you to look a little "new," but who doesn't want that?

Want to test your way into the look? Let me list five action items that will make you feel like Joni Mitchell, Carly Simon and Ali McGraw, all rolled into one: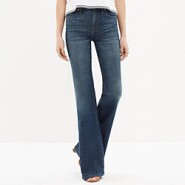 Buy this year's flares. If you make just one trendy purchase this season, let this be it. No extreme bells required or desired — especially those with distressed rips or big patch pockets — just a simple, reinvented boot cut in stretch denim with an even wash.

Look for a higher rise that hits your natural waist (also handy for tucking in your tummy and any muffin tops). The hems should just barely skim the ground. But there's the rub: To be flattering and leg-lengthening, flares must be paired with higher shoes (see below). Try something like Madewell Flea Market Flares in Carl Wash.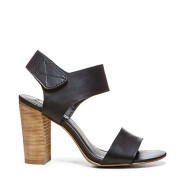 Add stacked heels. Sorry, girlfriends: Wedges may be comfy, but they are so-o-o not sexy. Stacked heels are, however — plus they provide the same sturdy support and height without that bulky "clodhopper" look.

Just don't go too far (I beg of you!) and get platforms; single-sole stacks are chic not clunky, and they work with all types of jeans — flares, skinnies and boyfriend — as well as with ankle-cropped pants and dresses. Take care, though, to avoid ankle-strap versions that shorten your legs or make your ankles swell. Try any of these or similar: Steve Madden Confdnce (were those pesky vowels cramping their style?!), Rockport Seven to 7 75mm Cross-Strap Sandal or Seychelles Lyra.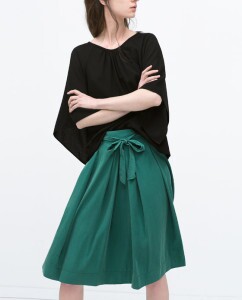 Model a midiskirt. This full, breezy, longer A-line skirt defines your waist and lets everything below it breathe free. (Think of it as half a fit-and-flare dress.) Up top, meanwhile, you get to do your own thing: Add a chambray blouse or a crisp white shirt, a fitted tee and ballet flats, a pair of sandals or those new chunky heels.

Here's an item to pass up, though: Those hippie-dippie ankle-length maxidresses! Consider, for example: Zara Tie Belt Midiskirt or Uniqlo IDLF Georgette Print Skirt.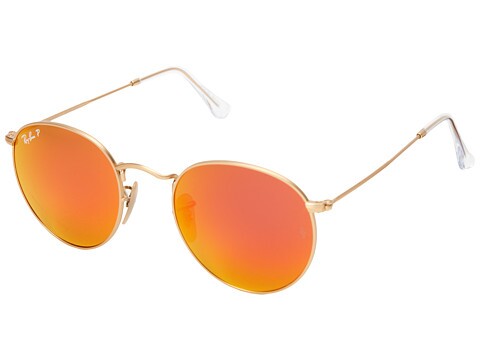 Brighten your day. A pair of round, colorful sunglasses can give you a fresh, youthful update in seconds — without changing your makeup, jewelry or hair. Retro shades in metal frames, with mirrored and polarized lenses of blue, violet, orange, pink or classic green, can add a splash of rock-star glamour to even the mousiest Andy ( Devil Wears Prada) Sachs type.

Look for UV protection, of course. And steer clear of oversize, thick round frames. Sure, they make a statement, but it's the wrong one! Eyewear candidates inlcude: Ray-Ban 3447 Round Metal Polarized or Giorgio Armani at Sunglass Hut.

Get discounts on airfare, hotels, car rentals and more — AARP Member Advantages. »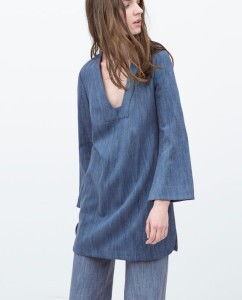 Stay true to blue. A rich blue denim, linen or chambray tunic makes a versatile topper that you can slip on over a pair of jeans or capris, or belt over a slim skirt.

Don't fall for the old bohemian blouse this time around: Its floaty, baggy shape does our boobs and bods no favors at 50 and tends to come off as a little costumey at this point. The crisp lines of a tunic, by contrast, sharpen our silhouette in a forgiving way. Try, perhaps: Uniqlo Women Premium Linen Long-Sleeve Tunic or Eileen Fisher Band Collar Organic Linen Tunic.

For more beauty and style tips for women 50-plus, check out The Wardrobe Wakeup: Your Guide to Looking Fabulous at Any Age by a blogger you know well.


Photos : madewell.com; stevemadden.com; zara.com; sunglasshut.com; zara.com.

Also of Interest



See the AARP home page for deals, savings tips, trivia and more